UPDATED 8/23/2023: Please see our most recent eNewletter with up to date info. Our community has now grown from helping 12 to 52 families and numbers are growing.
——————————————————————————
In recent days,
the City of Framingham announced that 12 asylum-seeking families from Haiti were transported to Framingham
and that city officials, legislators, other enlisted state agencies and area non-profits were working to address the immediate needs of these 39 individuals.
As an area convener with extensive experience supporting asylum seekers, Jewish Family Service (JFS) of Metrowest was called upon to take over local coordination of family support.
Over the last weekend, the numbers grew from 12 families to 52 families. Click here for the latest update.
Guided by the principles of Tikkun Olam, JFS is committed to ensuring these families have what they need to get them through this crisis, and hope that you will join us in healing and repairing the world by making a meaningful gift to JFS today.
WAYS YOU CAN HELP:
MAKE A MONETARY DONATION
Click here to help support Haitian families seeking asylum in the Metrowest Greater Boston area. Donations are needed to purchase necessities such as food, diapers, medicine, clothes, etc. Donations of any size make an impact!
If you have given in the past, please consider increasing your gift. If you have not yet given, please be as generous as you can.
GIFT CARDS
At this time JFS is in need of:
1. CVS Pharmacy cards.
2. Walmart/Target cards.
3. Stop and Shop cards to supplement SNAP, especially for families with babies as formula is very expensive and necessary because, due to the trauma endured by the mothers during the journey from South America to the Mexico/US border, they are not able to breast feed.
4. Visa/Mastercard cards to help with medical expenses as it takes time to acquire Mass Health.
Gift cards in the amount of $25 or $50 are preferred.
Donations of gift cards can be brought to JFS during regular business hours, 8:30am-4:30pm Monday-Friday.
Or if mailing, please send to:
JFS of Metrowest
475 Franklin Street, Suite 101
Framingham, MA 01702
Attention: Amanda Coughlin
DONATIONS OF IMMEDIATE NEEDS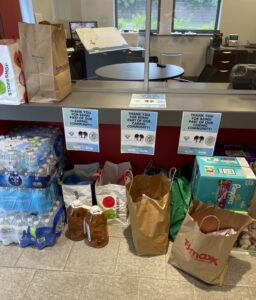 The Framingham Fire Stations are no longer accepting donations at their locations. Thank you to all who donated!
The City of Framingham recently posted a message on Facebook stating that the following locations will accept donations during the week of 8/21/23-8/25/23:
Donations can be dropped off at Edwards Church, 39 Edwards Street, Framingham on Monday, Tuesday, and Wednesday from 9 a.m. to noon this week.
Temple Beth Sholom, 50 Pamela Road, Framingham will accept donations on Thursday and Friday from 9 a.m. to noon this week.
Other locations will be added at a later date.
The families are living in hotels until long-term shelter can be arranged, and most do not have microwaves or refrigerators so only the following donations will be accepted:
Shelf milk
Juice boxes
Instant oatmeal
Individual-portion cereal boxes
Granola bars
Snack-size canned fruit
Pedialyte
Gatorade
Children's vitamins
Tylenol (children's & adults)
Children's flu & cold medicine
Similac baby formula for under 1 year and 1 year
Nestle Nido Kinder 1+
Hot cocoa mix
Snack-size apple sauce
Snack crackers
Dehydrated fruit
Bags of oranges
Bags of apples
Bananas
Mangos
Loaves of French bread
Sanitary pads of all sizes (not tampons)
Adult underwear for men (small and medium) and (small, medium, & large for women)
Dominos for adults
Children's books in Spanish, French, Portuguese, & Creole
DONATIONS OF FURNITURE, CLOTHING, HOUSEHOLD GOODS
At this time, we are not prepared to accept any donations of furniture, clothing (other than what is specified above) or household goods. If you have items that you would like to donate if a time comes when they can be used, please click here and complete this form.
VOLUNTEER OPPORTUNITIES
We do not have a need for volunteers at this time,  however if you feel compelled to volunteer your time and talents to support incoming refugees, we invite you to click and complete this form to express your interest. If a time comes when your offer matches the needs, you will be contacted.
LEARN MORE:
Thank you for your caring, compassion and offers of support.
Hope and prayers for the safety of all Haitians and peace soon.