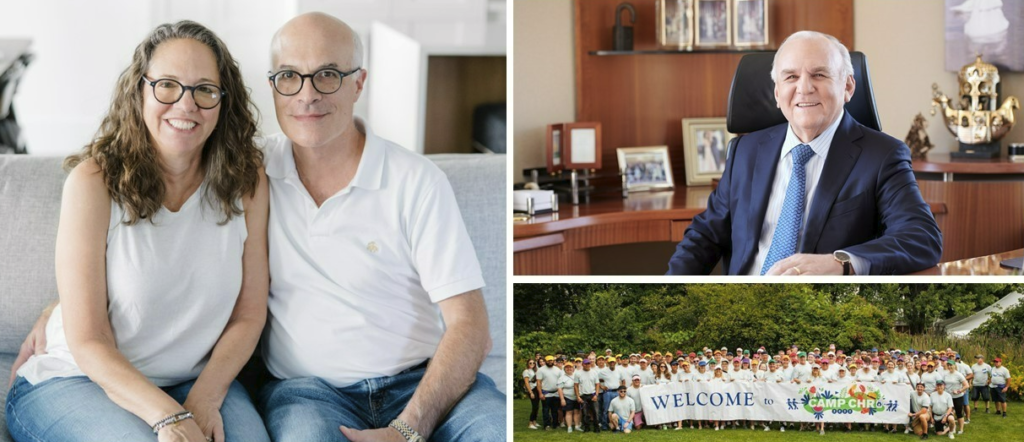 JFS is so excited to announce this year's honorees:
David and Gail Milowe
and receiving the JFS Max Michelson Humanitarian Award:
Ed E. Zuker and Chestnut Hill Realty
You are cordially invited to attend the 33rd annual Seize the Dream Gala to be held on Thursday, May 11, 2023 at the Westin Waltham Boston.
Seize the Dream honors area leaders and volunteers who have demonstrated an unfailing commitment and personal dedication to supporting vulnerable children, families, and senior adults in the local community and beyond. This year's honorees have made it their life's work to stand up for those left behind and it is a privilege to recognize these exceptional individuals.
OUR HONOREES: David and Gail Milowe
David and Gail pride themselves on being a "behind the scenes" helping hand to others. It was not an easy task to bring light to their many contributions to the community, but they agreed to be honored with the hope to inspire others to do and give.
David, Senior Vice President-Branch Director, Private Client Group, Senior Consulting Group at RBC Wealth Management, has more than 30 years of experience in the financial services industry and has worked for several prominent firms including Prudential Securities and AG Edwards.
David completed the Accredited Wealth Management program (AWM), a professional designation specifically focused on areas of estate and trust planning, insurance solutions and advanced investment strategies and is a member of the RBC Wealth Management Consulting Group, a group committed to a consultative-based investment practice.
David is the immediate past president of JFS, where he lead the organization for three years utilizing his strengths as a Financial Advisor and as a hands on volunteer. He is also a Past President of Congregation Kol Tikvah and prior to his time at JFS he was an active member of his local Rotary and Temple.
Right by his side is his wife, Gail. Gail retired from MGH/Brigham and Women's (Faulkner campus) after a 33+ year career in nursing. She also participated in an international mission trip, providing lifesaving care to some of the most vulnerable indigent patients. Gail has been the recipient of two awards given by Brigham and Women's for excellence in nursing care, patient teaching and mentoring coworkers. She has been on the board of The Pink Rose Foundation, an organization that raises funds and awards scholarships to children of breast cancer patients.
The Milowes live in Newton and have two daughters who complete their family, Adrienne and Jacqui, who often volunteer at the many JFS events through the year.
---
2023 JFS MAX MICHELSON HUMANITARIAN AWARDEES: Ed E. Zuker and Chestnut Hill Realty
Edward E. Zuker (Founder and CEO, Chestnut Hill Realty)
Since founding Chestnut Hill Realty in 1969 and under his continued leadership as Chief Executive Officer, Edward E. Zuker has overseen the Company's considerable growth while simultaneously ensuring a lasting commitment to its core mission: "Managing People's Homes With Pride." Operating first in Brookline, Massachusetts, CHR has expanded significantly under Ed's leadership, with current property holdings and communities extending across greater metropolitan Boston and its suburbs and into Rhode Island. Managed properties are valued at $2Billion. CHR's portfolio now includes 5,000 residential units and 160,000 square feet of commercial property. 
As one of five generations of the Zuker family to be active in real estate, Ed is a dedicated industry advocate and leader. He has served as President of the MA Apartment Association (MAA) and the Brookline Property Owner's Association, and Vice President of the Greater Boston Real Estate Board. Of the many accolades he has received across his long career, he was recognized with the highly selective MAA Industry Excellence Award.
In addition to his industry service, Ed is devoted to giving back to his community. Under his guidance, CHR has maintained a robust program of charitable giving and support; his philanthropic efforts as an individual are equally deserving of merit. He is an innovative supporter of Boston Children's Hospital, Brigham and Women's Hospital and many other organizations. A dedicated percentage of income from each Chestnut Hill Realty apartment community is earmarked for donation to support local charities and community services. Ed has spearheaded the creation of the West Roxbury Community Center, co-chaired the Building Committee for Temple Beth Avodah, and currently serves as Chair of the Real Estate Council of B'nai B'rith Housing New England, an organization that has recognized his philanthropy with numerous awards, including that for Distinguished Achievement. Ed was also recognized with the Mollie L. Moon Volunteer Service Award for his contributions as Chair of the Building Committee for the Urban League of Eastern Massachusetts. Most recently Ed received the Humanitarian Award from GBREB in June 2019, the Housing Champion Award from Metro Housing Boston in November 2020, and the Boston Real Estate Times Lifetime Achievement Award in December 2020. 
 A Brookline native, Ed studied finance and architecture at the University of Miami, where he received a Bachelor's degree in Business Administration.  
Celebrating Seize the Dream 2023
Click to learn how you can get involved.
Click to learn how you can get involved.
read more
Click to learn how you can get involved.
read more
To our honorees, award recipients, volunteers, all those who attended the gala and all who generously support JFS of Metrowest's efforts to Accelerate Social, Academic and Health Equity in our community, THANK YOU!!! Scroll down to view this year's Tribute...
read more