This past week JFS celebrated our 6th annual Build-A-Backpack event at the Wellesley Public Library and at the Framingham Public Library.
Over the course of two days, over 300 backpacks were packed with new school school supplies, giving over 300 disadvantaged students the tools they need to start the year off right! These backpacks will go to those students in need in Framingham and throughout the Metrowest community.
A huge thanks to all of those who attended and supported the 2017 JFS Build-A-Backpack event!
This event would not be possible without the support of our volunteers donors and supporters, thank you for all that you do.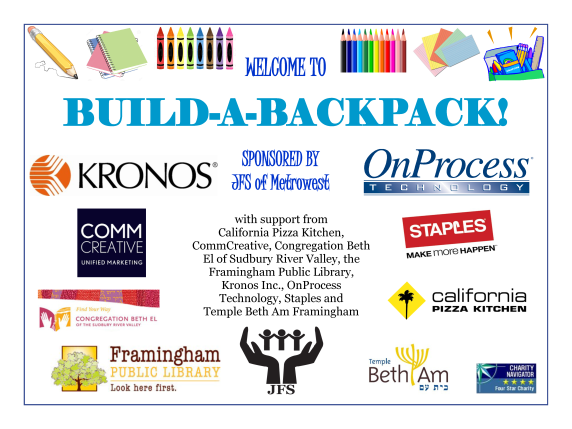 Visit us on Facebook to see more pictures or click to learn more about Build-a-Backpack
About JFS of Metrowest
JFS is a non-profit, community-based organization dedicated to standing up for those left behind and provides services to over 4,800 people in need within the Metrowest region each year, including afterschool tutoring for at-risk children, nutrition assistance for low-income families, refugee resettlement case management and support services that enable frail older adults to live independently. To learn more about JFS visit our website at www.jfsmw.org or like us on Facebook!