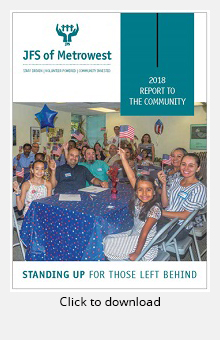 Dear JFS Supporters and Community Members:
This is your Jewish Family Service of Metrowest 2018 Report to the Community.
We are a powerful collective, marshaling professional talent and purposeful volunteerism, combined with philanthropy.
Look at JFS on Charity Navigator … 4 Stars, a 100% score. Almost unheard of.
JFS is attacking social, economic and health inequities.
Our programs have demonstrated impacts.
We thank you for your investment, commitment and generosity.
These are perilous times for vulnerable children, families and elders.
It cuts across the Jewish community and the general community.
The government safety net is ripping apart and many of our clients are tumbling towards crisis.
Immigrants and refugees rejected by our national leadership.
The distressed families unable to make ends meet; the children needing warm clothes and food; the immigrants striving to become citizens; the unexpectedly unemployed looking for a job; the elders with memory problems needing accompaniment to doctors' appointments; couples and individuals wanting to create a family through adoption; the adult children struggling to take care of frail, aging parents.
JFS must be there for them—
JFS is an agency filled with problem solvers. We find the solutions to these problems and very personal needs.
We are proud of our deep roots in Metrowest/Greater Boston and together we will partner to honor the promise JFS has made to the community – standing up for those left behind.
With our gratitude,

Please click here to view the Report and feel free to
share the Report across your own networks.
If you would like to have a face-to-face meeting to deepen your knowledge and connect to JFS, please contact Amanda Coughlin at acoughlin@jfsmw.org.

---
Join our mailing list and receive news like this delivered
instantly to your inbox. Click and register today!