Framingham, MA – June 3, 2019 – Jewish Family Service (JFS) of Metrowest, a non-profit, community-based organization that provides vital social, health and community services to alleviate suffering, enhance lives and support people in need in the Metrowest community, announced that they have installed four new board members at the 2019 JFS Annual Meeting.
The meeting opened with welcoming remarks from David Podell, President of Mass Bay Community College, followed by the presentation of the pilot partnership between Mass Bay Community College and JFS: Pathways to Student Success, a community engagement and mentoring program.
The installations of the four new board members took place shortly after, welcoming in:
Attendees shared their appreciation for and gratitude to departing board members Robert Fields of Buzzards Bay, Ethan Freishtat of Needham, Sharon Goldstein of Natick and Janet Sanders of Boston.
Additionally, several volunteers and staff members were recognized for their outstanding work with JFS.  This year, JFS CEO Marc Jacobs presented staff member Joanne Kane and volunteers Michael Sawyer, Jane Joiner and Karin Beth with the CEO's Roll Up the Sleeves Award.  Their tireless determination and zeal never ceases to embody the values of JFS.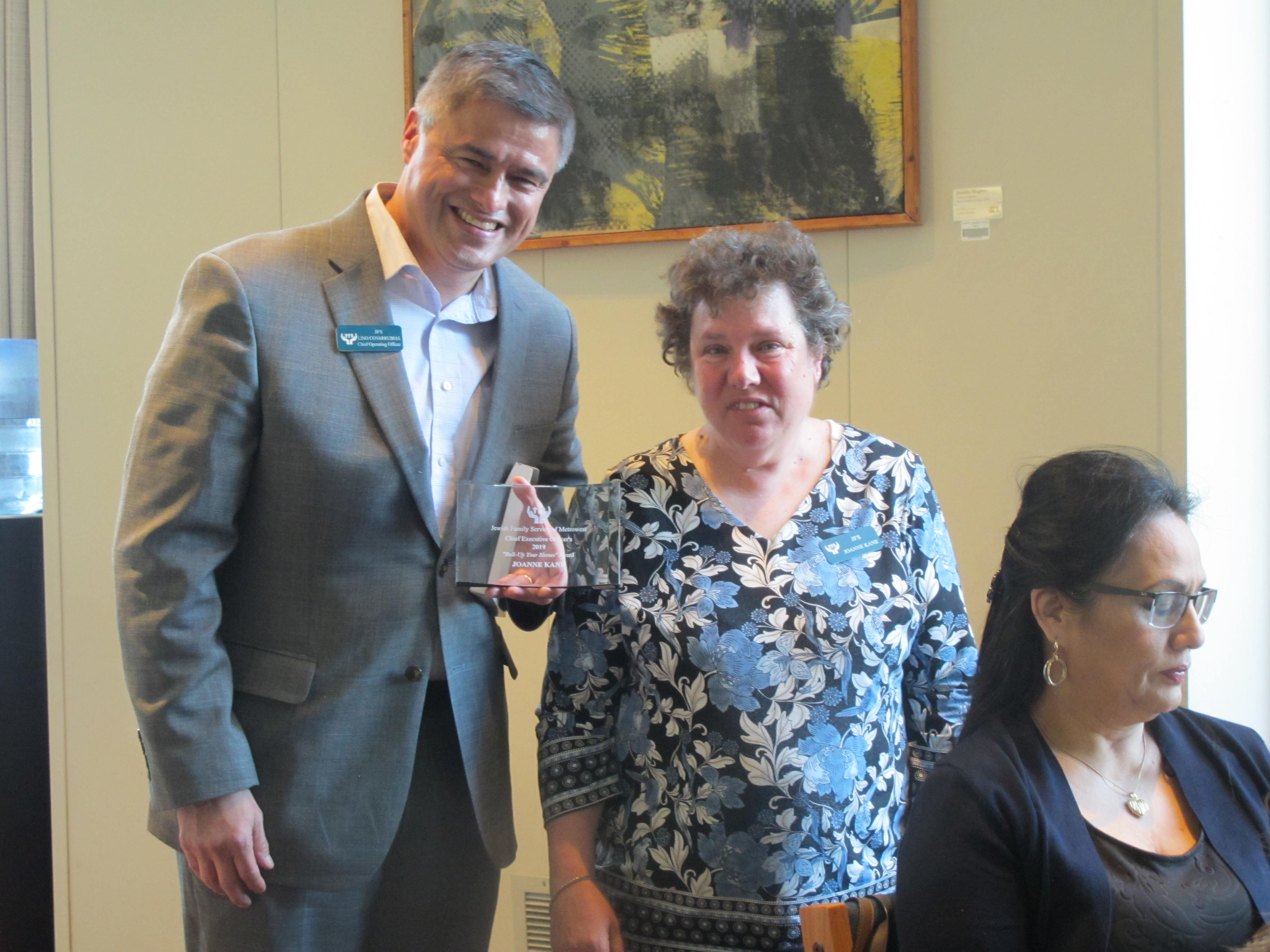 Lino Covarrubias with Roll Up the Sleeves recipient Joanne Kane.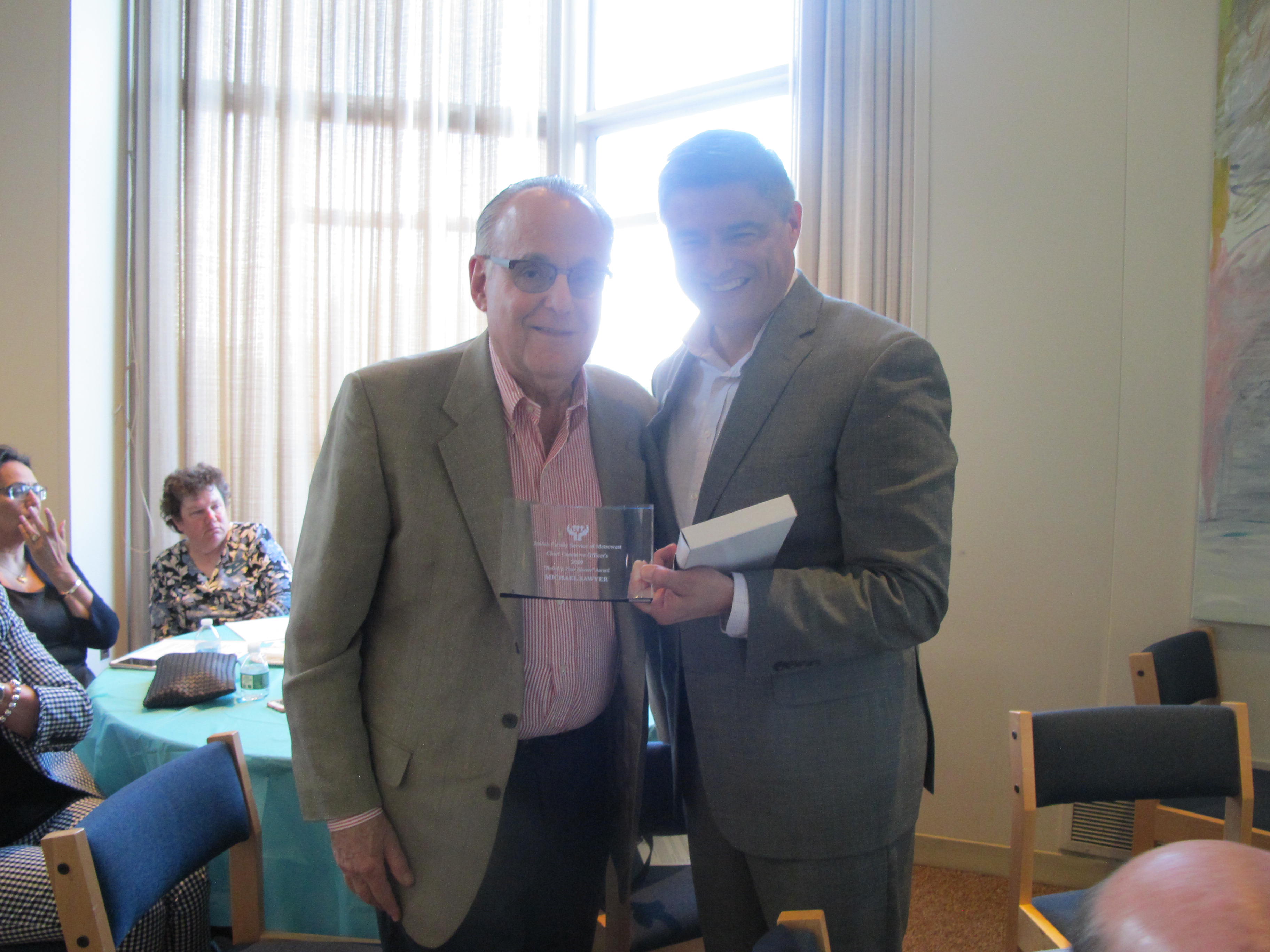 Lino Covarrubias with Roll Up the Sleeves recipient Michael Sawyer.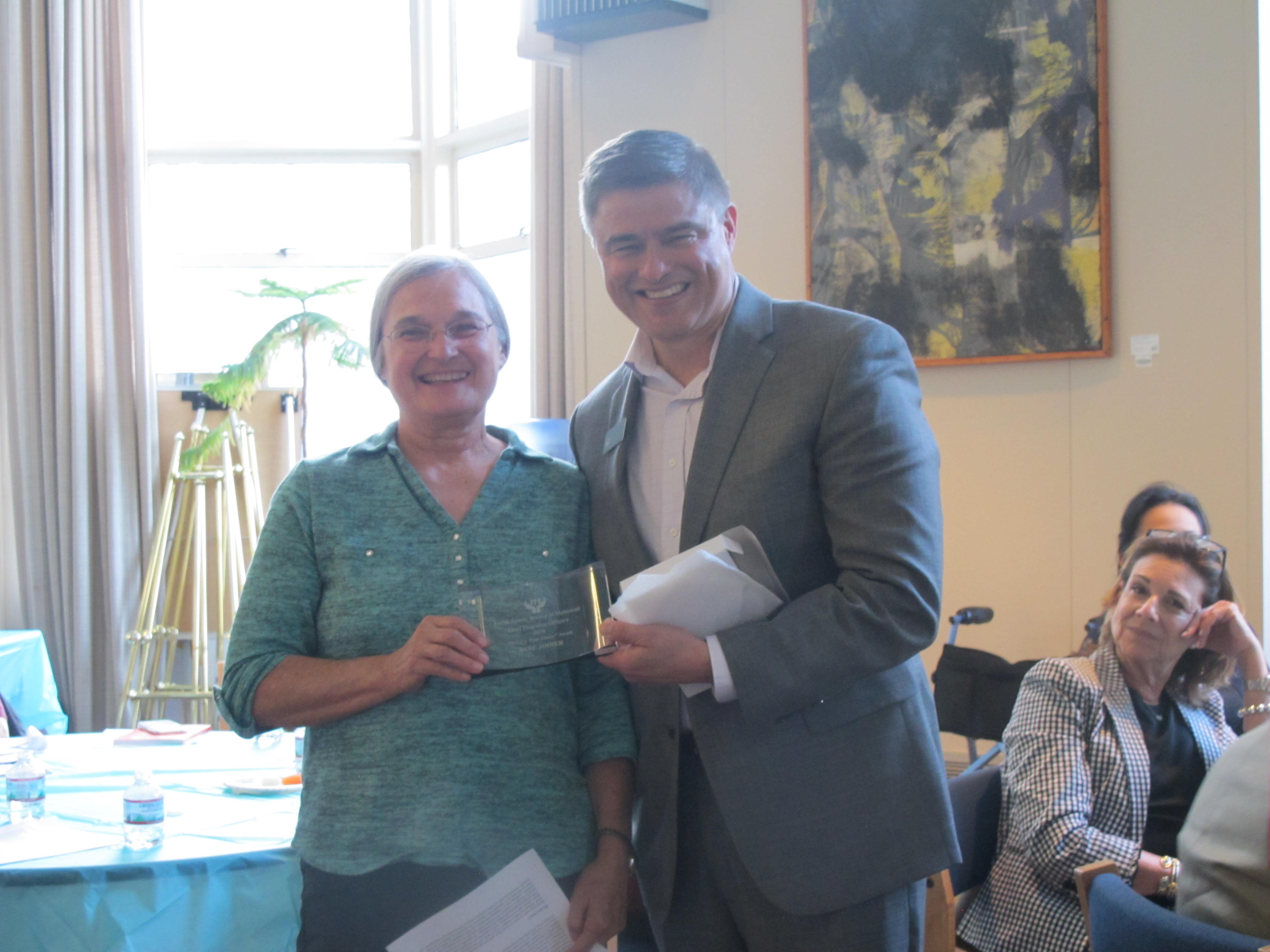 Lino Covarrubias with Roll Up the Sleeves recipient Jane Joiner.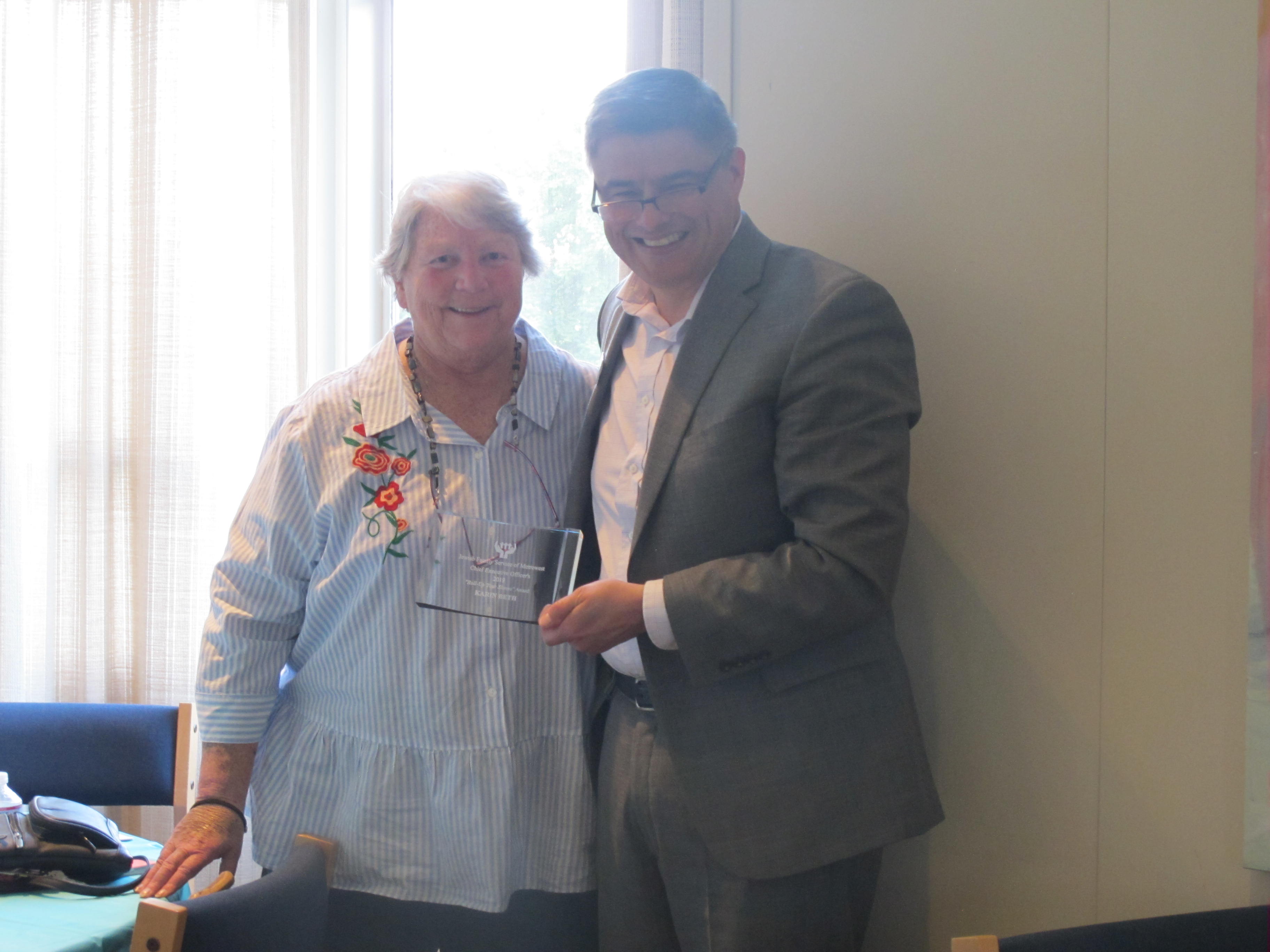 Lino Covarrubias with Roll Up the Sleeves recipient Karin Beth.
Maggie Kenney presents 2019 Ellen Bloch Youth Leadership Award to Naomi Zwelling.
Reducing Achievement Gaps volunteers Naomi Zwelling and Cecilia Teixeira were the recipients of the 2019 Ellen Bloch Youth Leadership Award for their continuous commitment and dedication both as mentors and to the volunteer program at JFS.
JFS COO Lino Covarrubias presented Abrielle Salloway, FAN Case Manager and Coordinator of Elder and Communal Services, with the 2019 Lebold Staff Award in recognition of her exceptional professional growth and diligence throughout the past year.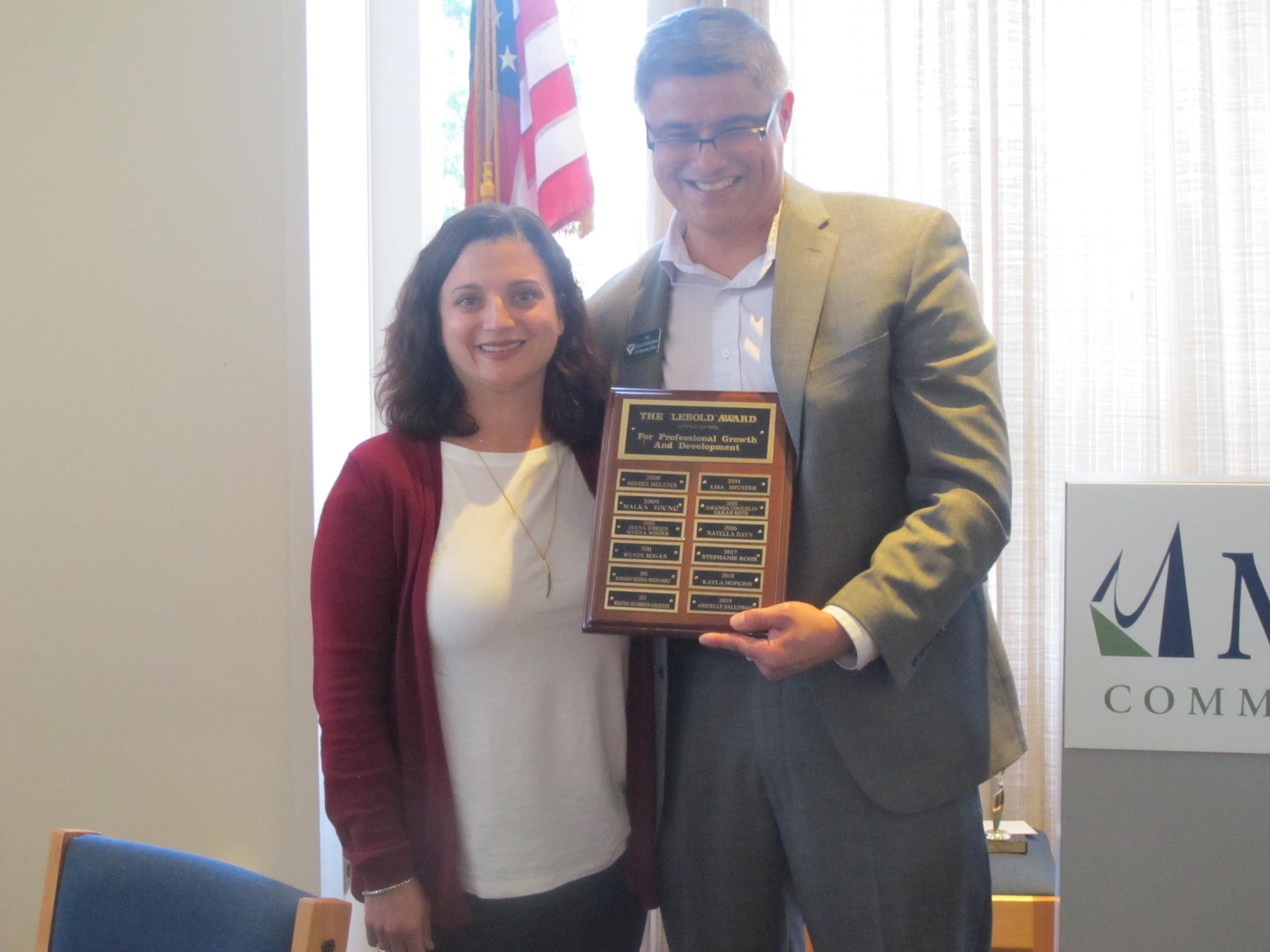 Lino Covarrubias presents Abrielle Salloway with Lebold Staff Award.
To learn more about JFS and to see the full list of 2019-2020 Board of Directors, visit www.jfsmw.org.
About JFS of Metrowest
JFS is a community-based 501(c)(3) nonprofit organization that works with over 5,000 people within the Metrowest and Greater Boston regions each year, targeting at-risk families, individuals, immigrants, and elders aging in place. Dedicated to standing up for those left behind, JFS is:
Increasing the ability of frail elders to maximize independence and quality of life as they navigate the challenges that come with aging
Accelerating academic achievement and pathways to college for low-income and first-generation students
Providing safety, hope and opportunity for refugees victimized by world conflict
Advancing equity with comprehensive assistance that empowers immigrant families to succeed
Reducing poverty in our community with case management, basic needs assistance and employment readiness support
Building families through adoption
JFS provides the tools to meet life's obstacles to stabilize during a crisis and optimally achieve self-sufficiency, strengthen lives, improve wellbeing, and build a stronger community. JFS' sound fiscal management practices have earned it a 4-star rating (score=100!) from Charity Navigator, America's largest independent charity evaluator. To learn more about JFS or to view the 2018 Report to the Community, visit http://www.jfsmw.org/.