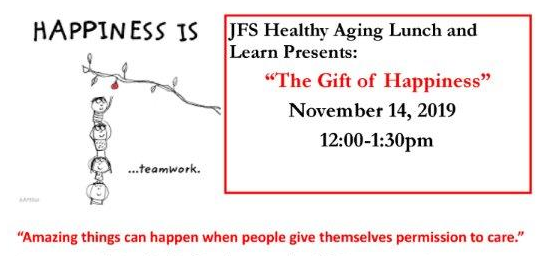 Do you want to live in a kind, joyful and connected world? Do you want to integrate more kindness, appreciation, joy and connection into your life?
Join Anne Lefleur, MSW, founder of "The Gift of Happiness" as she teaches us ways to increase our own happiness through our connections with others. She will also be giving out connection cards that literally spread words of kindness and encouragement.
When: Thursday, November 14, 2019
12:00-1:30 PM
Location: Temple Israel
145 Hartford Street
Natick, MA 01760
Cost:
$4 for preregistered admission
$6 at the door
Click here to register for this event online.
REGISTER TODAY!
For more information, contact:
Karen Reitzi: 508-875-3100 x480
kreitzi@jfsmw.org