On Sunday, Jewish Teen Initiative (JTI-Boston) hosted the 2nd Annual #LoveOurNeighbors Metrowest Community Service Day at Temple Beth Am in Framingham. In partnership with JFS of Metrowest, The Shapiro Foundation, area synagogues, and teen organizations, over 100 teen and adult volunteers came together for a morning FULL of building, sorting, painting, assembling, and decorating! Each project will go on to directly support JFS programs, children and families in need in our Metrowest community.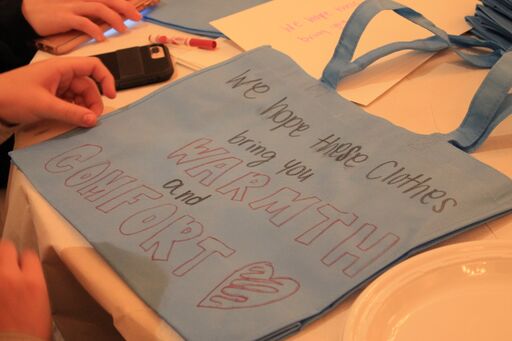 On behalf of the clients we serve, JFS sends so much gratitude to our partners at JTI and the Shapiro Foundation for making the Love Our Neighbors event possible!
The Buddy Benches that were constructed will provide a comfortable space for the Woodrow Wilson School students to sit with friends and know they are a part of welcoming and a caring community.
The donation collection bins will allow for generous members of the community to easily contribute items to the JFS Children's Clothing Closet.
The boxes of brand new clothing that were prepared for distribution and the clothing bags that were decorated will help JFS bring comfort and confidence to more kids.
The beautiful murals painted and the clothing bins decorated will make the JFS Children's Clothing Closet a lively and vibrant space to volunteer and build community.
Thank you again for this amazing contribution and partnership!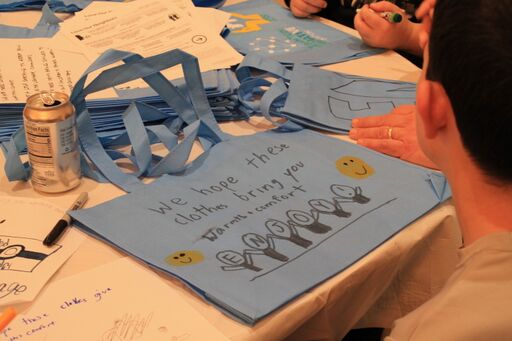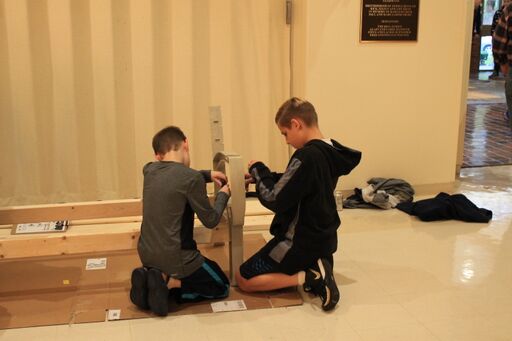 Looking to learn more? Please click the following links to find out about our Children's Clothing Closet:
The CCC is always in need of
donations of kid's
(K-5) clothing (gently-used and/or new) and volunteers, if
you are interested in donating or volunteering, please contact either:
Anniey Michelson: JFS Program Specialist (508) 875-3100 x440, amichelson@jfsmw.org
Danny Woodward: JFS Program Manager (508) 875-3100 x
450, dwoodward@jfsmw.org