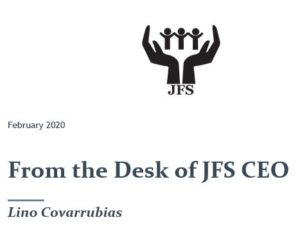 Dear Friends,
What a month! I continue on my 100-day listening tour meeting with partners, donors, stakeholders, and supporters. I'm so invigorated by my discussions with people about JFS. We are viewed as a trusted community organization; a social services agency that provides high quality service, and an organization that is bold and steps up to help vulnerable families.
I'm also excited about the expansion of our role in diversity work in Metrowest. Earlier this month, JFS, along with our partners the Jewish Arts Collaborative (JArts), Framingham State University, CJP, Wayside and many others welcomed Lerner & Moguilevsky for a concert called A Celebration of Diversity. You will read about it below. The purpose of the concert was to celebrate diversity given the recent issues of racism, anti-Semitism, and hate. The concert was the first event in an increased leadership role by JFS and its partners in a community-wide response to build an inclusive, caring community that welcomes and honors people of all backgrounds. It is a fight we are compelled to be part of, and I look forward to you joining us. Together we can amass an unstoppable force for good.
Here are some other updates and ways you can get involved:
Seize the Dream: Have you placed a Seize the Dream reservation through the website yet? Did you receive an email confirming the order? If not, please email Maya Pestov at mpestov@jfsmw.org and let her know. If you have not yet placed your Special Friend or Tribute Book reservation for the May 7th event, click here to place your order now.
Volunteer Opportunity: Are you an active retiree or an adult with some weekday availability? Volunteer Manager Gail Gregory would love to talk to you about joining our team of Patient Navigators! A few hours of your time accompanying older adults to medical appointments can make a meaningful impact in their lives. Call Gail at 508-875-3100 x 350 or click here to learn more.
Community Events: Join Rabbi Marc Baker, CEO and President of CJP at the Sheraton Framingham on March 2nd in a Conversation for Action – How can we become a more welcoming community? Other locations/dates available. Click here to learn more and register.
In case you missed the Celebration of Diversity Concert in early February, click here to read a reflection from JFS Board Member Dena Kowaloff, posted on LinkedIn.
Need a Loan? Funded by CJP, interest-free loans are available for when you need help affording bar and bat mitzvahs, other lifecycle traditions, or managing challenging expenses. Click here to learn how to qualify.
Need Help Caring for an Aging Parent? Malka Young, Director of Allies in Aging JFS Elder Care Solutions can help navigate the challenges that come with aging. She recently participated in an Adult Education Series titled "Things We Need to Know for Ourselves and Our Parents". Click here to find the presentation and answers to questions related to health benefits, care planning and more.
Program News: Through a multi-partner collaboration, JFS launched the first Healthy Harvest distribution at Pelham Apartments, bringing fresh produce, warm jackets and other necessities to low income families in Framingham. Click here to learn more.
Also this month, over 150 students and family members participated in the third Homework Dinner at Wilson Elementary School where they received a healthy meal provided by Daniel's Table, academic support, winter clothing from the JFS Children's Clothing Closet, and more. Click here to read the story.
Wishing you a great March, Happy Purim (Purim Samayach), and a First Day of Spring filled with warmth and family.
Sincerely,
Lino Covarrubias, JFS CEO