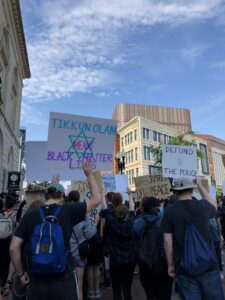 The pervasiveness and injustice of racism in our community and across the country has been brought into stark relief in the wake of George Floyd's murder by law enforcement. While this is certainly not the first deadly incident of police brutality that has effected the Black community, it has motivated protests, demonstrations and calls for systematic change in every state in America in the last two weeks.
This Thursday, JFS held a virtual staff meeting dedicated solely to a conversation around racial injustice, and to allow space for staff reflection and dialogue. Our conversation was joined and facilitated by former JFS Board Member and retired elementary school principal Robin Welch, who offered his perspective as an educator, a community member, and as a Black man.
As a social services agency, JFS's commitment to equity and justice for all people is deeply intrinsic in our values and the work that we strive for. While this conversation is just a starting point, JFS commits to continuing the dialogue we have started, to learning more about racial injustice, and to promoting anti-racist action and advocacy in our community.
The importance of open dialogue at organizations cannot be understated and making space for discussion and reflection, no matter how uncomfortable, is a necessary step to make. As a part of this conversation, JFS staff member and Program Specialist, Maggie Kenney put together a guide with racial justice and anti-racist educational resources and she shares these thoughts with us.
           *      *      *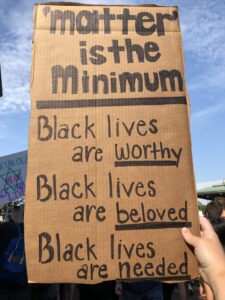 "As a white woman, my grief for George Floyd, is a complicated sort of pain. I will never begin to understand the trauma the Black community has faced for generations, a trauma wrought by state-sanctioned violence upheld by systemic white supremacy. I feel that it is my responsibility, as it is for all white people, to take the grief and the empathy that we have and turn it into action.
When the cameras and journalists leave Minneapolis, there will still be pain. When the news cycle turns over and protests cease, there will still be racism. It is up to us to actively begin to change. To uproot our privilege, to unlearn our internal biases, and to practice anti-racism.
I think many people, including myself, are feeling overwhelmed with the sheer amount of information (news, voices, stories, and resources) that both already exist and are currently emerging about racial injustice in the U.S., police violence, ally-ship, white privilege, etc.
It is very important to me that these valuable resources, many of which are Black-made and curated, aren't being lost or forgotten in the daily news cycle. This list is a combination of resources that I have already read or consumed, sources that I've learned about in the last few weeks from peers, friends, and Black organizers, and sources that I personally want to make sure that I learn from. These resources are small fraction of what exists, but are a good starting point.
In the wake of George Floyd's killing by law enforcement, I had started to create a general list of books, podcasts, and movies that focused on discussing race and racial injustice for my own learning. As it lengthened, I began thinking that I could share this with others.
I want to share this list with those who feel deeply distressed about and invested in what what's going on in the Black community, and with those who feel it is their sincere, personal responsibility to learn as much as they can about this injustice, the cultural and historical roots behind it, and their own personal role in it."
Education is vital in this type of work, and no amount of organizing and protests will fully make their mark if people don't actively educate themselves, unlearn their own racism, and consciously make an effort to learn from, listen to, and uplift Black voices and people of color.