JFS of Metrowest is very excited to announce our Annual JFS Thanksgiving Dinner Distribution, which will take place on Tuesday, November 24, 2020!
As part of our new JFS team spotlight series, we chatted with Lucia Panichella, Senior Director of Programs and Partnerships, to learn more about plans for this year's event, how the team will manage the event safely in light of the COVID-19 pandemic, and ways that members of the community can get involved to support the event and JFS.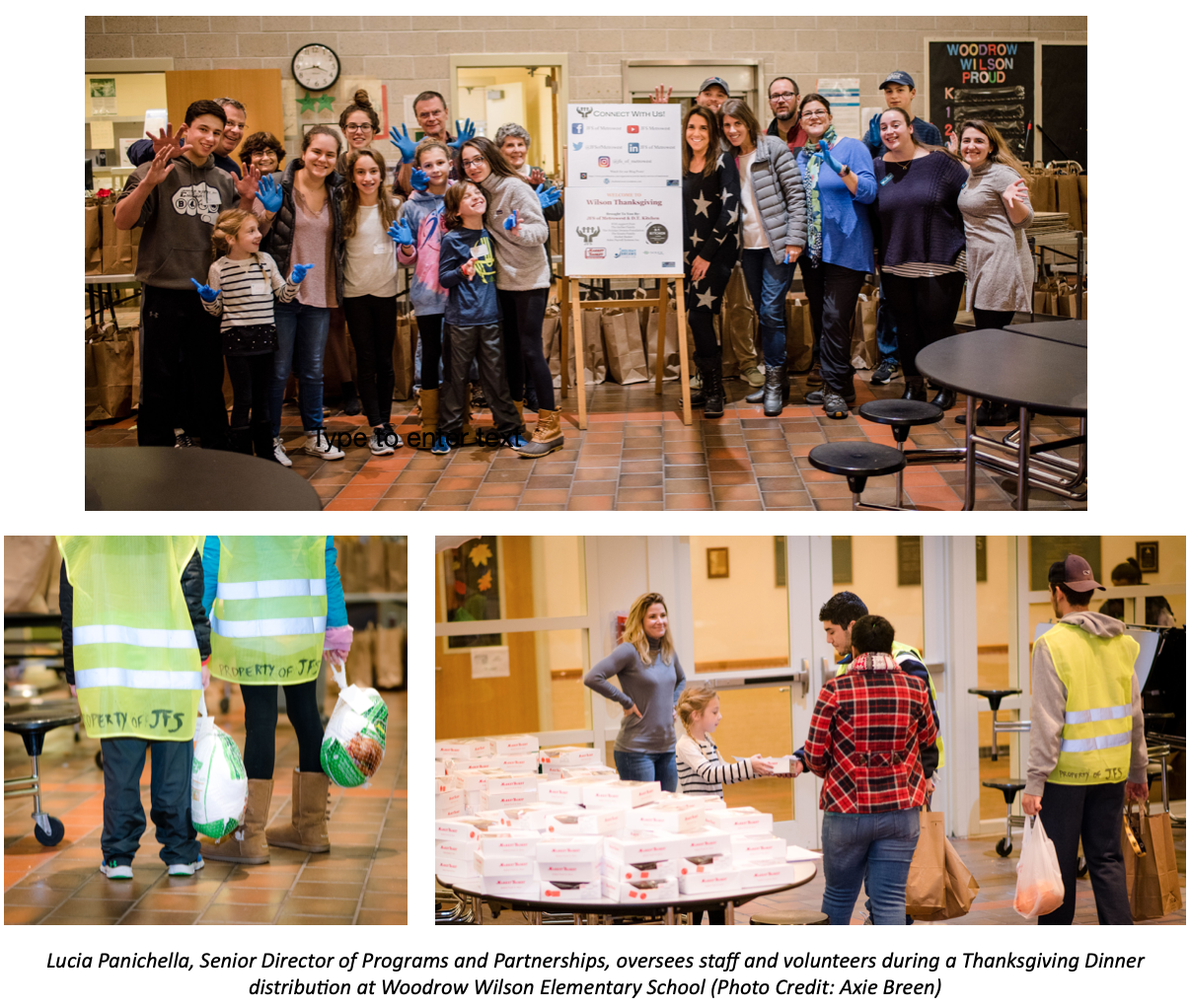 1. Thank you so much for speaking with us, Lucia! To begin, please tell us about the Thanksgiving Dinner Distribution event, before COVID. What is it? How long has JFS been doing it?
Over the past several years, JFS has brought community members together to pack bags of produce, pantry items, turkey, and pie so that we can provide Thanksgiving foods to the families that we serve. We've traditionally done this at Framingham's Woodrow Wilson School, where we have a lot of programs for the students and their families.
Many of these students' parents are working multiple jobs to make ends meet, and most of them are immigrants. The Thanksgiving distribution provides a wonderful way to help these families to embrace the holiday in whatever way works best for them. For Thanksgiving, it doesn't matter what religion you practice or what background you come from, and it's great when families mix the traditional Thanksgiving foods together with other foods from their communities.
2. What is your favorite part of the event? What are you most excited about?
I feel that so much of Thanksgiving is about people coming together and enjoying being with family and friends. It's something that happens at this event and during Thanksgiving as well, so it feels like the holiday happens all week long every year!
It's such a happy event. People are so appreciative not only to have the food, but also to see the people who are working to put the food together. There are volunteers who assemble the food into bags and help carry them to families' cars. Everything about the event always feels so warm and welcoming!
The immigrant community has been particularly hard hit by the pandemic. A big Thanksgiving meal always provides a chance to relax and enjoy family and this year that feels all the more important.
3. How is the JFS team planning to make the distribution safe this year in light of COVID-19?
In keeping with social distancing guidelines, we won't have lots of people gathered together in one place all at once to pack bags and prepare everything for distribution. Smaller groups of people will come together in smaller shifts to ensure that everyone is safe.
Also, this year, we will be doing this at a different site rather than at the Woodrow Wilson School. The upside of having this event at a different site is that we are able to take advantage of our expanded partnerships more directly. For instance, there are families in our community who live near the Brophy School, and we also have a partnership with the Pelham Lifelong Learning Center. Having the event at a different location will make it easier for us to welcome more families and build that community even more.
Finally, the other change is that we'll have the families drive up directly to the distribution site, where we'll be putting the food directly into their cars for them. That way, we won't have all of the families and volunteers coming indoors. Since March 2020, we've had a lot of success with the drive-up model as part of our food distribution every Thursday at the Woodrow Wilson School. We look forward to seeing this in action for the Thanksgiving Dinner Distribution, too!
4. How can members of the community get involved in the Thanksgiving Dinner Distribution event? What other ways can they support the work of JFS?
A key thing that has made this event so special is that we have had the ability to have community members support it in so many ways! For those who prefer to sponsor, providing monetary donations to help us purchase the food is much appreciated, and perhaps the best way that people can support the event this year, since we need to keep an eye on the number of people who are directly involved due to COVID-19 social distancing guidelines. If you are interested in sponsoring the event, please donate at https://jfsmw.org/donate/. 
If someone cannot get directly involved in the Thanksgiving Dinner Distribution event this year, we have always done and will continue to do community-supporting work throughout the year. For instance, every Thursday we give out food to families in need at the Wilson School. We also have prepared meals that we deliver to isolated older adults who are unable to leave their houses. We do a lot of ongoing work for food security in our community, not only to ensure that community members have enough food to eat, but that they have access to healthy food and fresh produce.
Also, we have been handing out a lot of clothes as part of the JFS Clothing Closet, and we are always seeking out volunteers who can help provide and deliver clothes to community members in need.
There are so many opportunities to help during this time, especially with this being an exceptional year of increased need in our community. If you are interested in volunteering at JFS, please contact Gail Gregory at ggregory@jfsmw.org.
5. Finally, what is your favorite Thanksgiving food? And what is a must-have food for Thanksgiving in the Panichella household?
My favorite food of Thanksgiving is the stuffing. I look forward to this every year! But similar to the Thanksgiving Dinner Distribution event, one of the things I love about Thanksgiving is bringing together cuisine from different communities with traditional Thanksgiving cuisine. The Panichellas therefore have pasta before the whole traditional Thanksgiving meal – usually manicotti with tomato sauce!
______________________________________________________________________________
JFS of Metrowest would like to thank all of its supporters and partners who make the Thanksgiving Dinner Distribution possible, including Daniel's Table, the Holiday Dreams Foundation, members of the board, staff, and all volunteers.
To donate to JFS of Metrowest, please visit https://jfsmw.org/donate/ 
For volunteer opportunities with JFS of Metrowest, please visit https://jfsmw.org/volunteer/
To learn more about JFS of Metrowest, please visit https://jfsmw.org/.