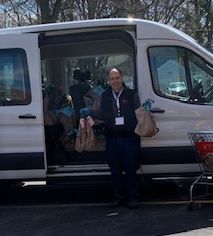 Michael Matatia
JFS Volunteer since November 2019
Languages: English, "light high school French barely used except when I venture to Quebec", and reads Hebrew
Why do you believe the work you are doing at JFS is important?
"JFS is an integral part of the community and elder services from the Patient Navigator program to meals and other support services. For someone looking to give back it is the perfect organization to both help local elderly and people in need. Supporting this organization with time and donations helps your neighbors, which in Judaism is a great mitzvah and an act of kindness. I appreciate JFS for its leadership that gives me the opportunity to help."
We are grateful for the many ways in which Michael has stepped forward to help those in need. Thank you, Michael!