The JFS Patient Navigator team continues to help our clients access health care while taking into account Coronavirus restrictions and safety measures. With creative precautions that prioritize the safety of our volunteers and clients above all else, the JFS Patient Navigator team has been able to successfully bring our clients to over 150 appointments since June. Thank you to our staff and volunteers for their commitment!
Older adults need our support more than ever in getting to their medical appointments.
Please consider learning more and becoming a JFS Patient Navigator volunteer.
NEXT TRAINING DATE:
Thursday, February 25th and Friday, February 26th
11:00 am -1:00 pm, Zoom Virtual Meeting 
---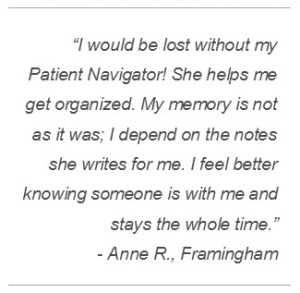 Volunteer in your free time and help frail older adults get the medical care and information they need to manage their heath, improve their quality of life and live independently in the community.
Volunteer as a JFS Patient Navigator:
Receive comprehensive, ongoing training and support
Gain experience navigating healthcare systems and working with older adults
Select appointments that fit your schedule
Get a Patient Navigator padfolio to organize communications
Join a team of highly trained volunteers who make a direct and positive impact in the lives of people every day
Learn How to:
Help older adults prepare for upcoming medical appointments, review
concerns and frame questions
Serve as a companion to medical appointments and procedures
Facilitate communication between doctor and patient
Take notes during the visit
Assist in scheduling follow up care and picking up prescriptions
The Older Adults You Will be Helping:
Aged 60 to 100+ years old
Live in Framingham, Natick and surrounding communities
Able to enter and exit a car independently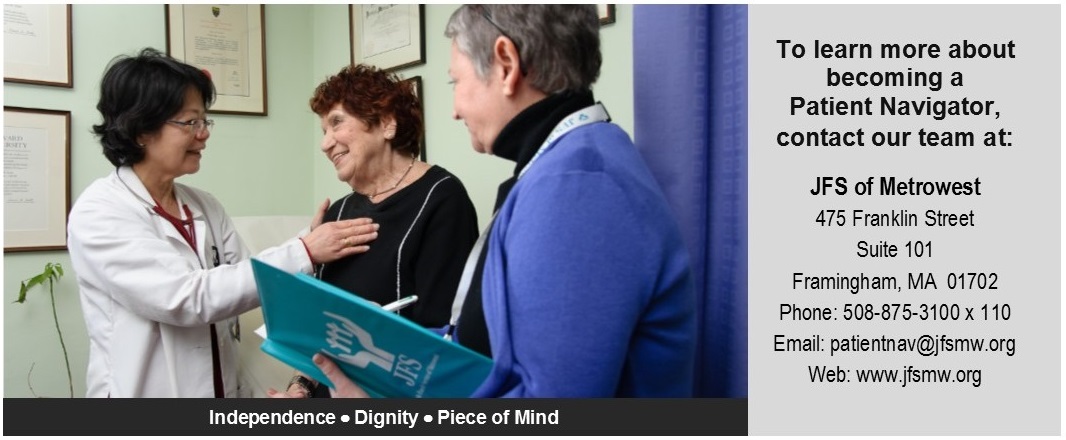 SIGN UP TO ATTEND AN UPCOMING VIRTUAL TRAINING:
Thursday, February 25th and Friday, February 26th
11:00 am – 1:00 pm

Call 508-875-3100 x 350 or
email ggregory@jfsmw.org today!
Learn More: