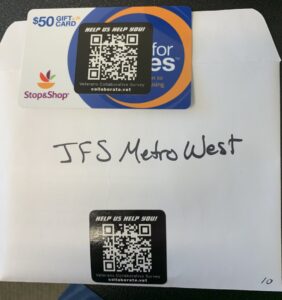 Thank you to the Greater Boston Veterans Collaborative (GBVC) and the Bob Woodruff Foundation for providing Stop and Shop cards to JFS to help our veterans in need! JFS is grateful for the support of these invaluable partnerships that allow us to continue fulfilling our commitment to helping veterans in the Metrowest community. Follow the links to learn more about GBVC, the Bob Woodruff Foundation, and other resources for veterans!
http://www.collaborate.vet/ https://bobwoodrufffoundation.org/  
Find links below to other key partners and important information to support veterans:
Resources for LGBT Service Members and Veterans:
Reach out if you need assistance – JFS is here to help – info@jfsmw.org.