Throughout the summer, Framingham Public Schools (FPS) has hosted Family Park Meetups, a series of ongoing family engagement nights in local parks across Framingham! JFS has been happy to join other community partners at two of these events, where we have held clothing pop-ups and distributed clothes to all children and families who attend!
JFS distributed over 1,000 items (including children's and women's clothes, shoes, and accessories) to families who attended the Family Park Meetups at the Mary Dennison Park and the Arlington Street Park.
Smiles abound, kids and their parents were able to grab a JFS tote bag and shop through brand new and gently used shoes, soccer cleats, dresses, shorts, and more! Among the happy faces was a boy who found a pair of cleats that fit just right, after JFS CEO Lino Covarrubias kneeled down to lace them up!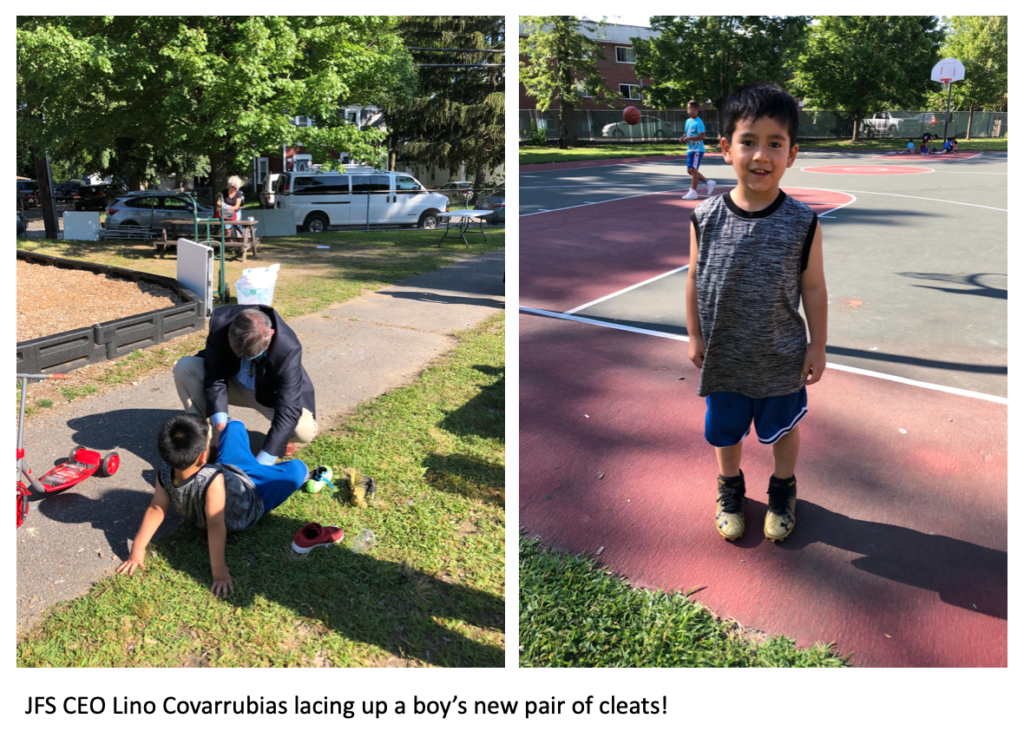 About the JFS Clothing Closet: Launched in 2016, the JFS Children's Clothing Closet provides a seasonal response to the clothing needs of the elementary school aged children in the Metrowest community, specifically focusing on the most economically challenged schools in Framingham.
Volunteers are needed to sort and organize clothing and pack clothing orders to distribute to families. We're also looking for volunteers to join us at events in various community locations for our pop up children's clothing store, where members of the community are able to shop for free. Volunteers unload clothes from the van, set up the racks of clothing, assist shoppers, and clean up.
For more information, please Contact Gail Gregory, Manager of Volunteer Services and Community Engagement at ggregory@jfsmw.org