Photo Credit: Sheldon Golder
Together with the help of over 130 volunteers and staff, JFS of Metrowest coordinated the delivery of over 2,200 Kosher meals for Rosh Hashanah to families and older adults throughout Metrowest, Boston, and North and South Shore communities.
Many thanks to our partners: Combined Jewish Philanthropies (CJP), Jewish Family & Children Services (JF&CS), Yad Chessed, New England Yachad, 2Life Communities (Brighton Campus, Brown Family House, Shillman House, Coleman House, Golda Meir House), Hebrew SeniorLife (The Julian and Carol Feinberg Cohen Residences, The Marilyn and André Danesh Family Residences, The  Diane and Mark Goldman Family Residences, Simon C. Fireman Community, Randolph Jack Satter House), Temple Beth Elohim,  Temple Israel (Sharon), Congregation Kehillath Israel, and Perini Management Services, Inc AND to our amazing Kosher caterers: Adeas Mediterranean, Larry Levine, Catering by Andrew, Ora Catering, Dushez Kosher Catering, Tova's Catering, and A Perfect Taste Catering.
We also want to give a special shoutout to Daniel's Table for their assistance with this project. We are grateful for their partnership and continuous work in providing food security services to our neighbors-in-need.
__________________________
Elana Margolis, JFS Board Member and volunteer meal delivery driver, shared the following with us:
Thank you so much for the opportunity to participate in something so special. Each of the individuals I delivered to were very appreciative, but I ended up with an extra box. I wanted to make sure that it went to a person who needed it.  I got online and posted the following to Share Sharon, a town Facebook page devoted to sharing things for free.
"Had a meaningful morning delivering CJP – Combined Jewish Philanthropies and JFS of Metrowest Holiday in a Box, catered by the talented and generous Neil Morris and A Perfect Taste Catering. I have an extra Holiday Box and would like to gift it to someone in need of a bit of help as Rosh Hashanah approaches. Would anyone here find this helpful or know someone who would? Please feel free to DM if you prefer. Happy to deliver this afternoon! All food is certified Kosher, and includes, honey, apples, soup, challah, sides, brownies, and chicken.
I got a response from a woman who said that her grandmother or parents would be happy to take it but noted if anyone in financial need came up, she'd defer. We gave it 30 minutes, since we had a window to keep the food fresh. Sure enough, within the next few minutes, I got this message in DM from another woman:
"Would love the holiday meal. I live alone, lost my job. Would enjoy it with my daughter and grandson."
I set off with my 14-year-old daughter so she could be part of the mitzvah. At the woman's house, we learned that the woman, who was furloughed during COVID, was not able to return to work because she was taking care of her young grandson so her daughter could work. This Rosh Hashanah meal landed just where it was supposed to.
__________________________
Wishing you all a Happy New Year! | L'Shanah Tovah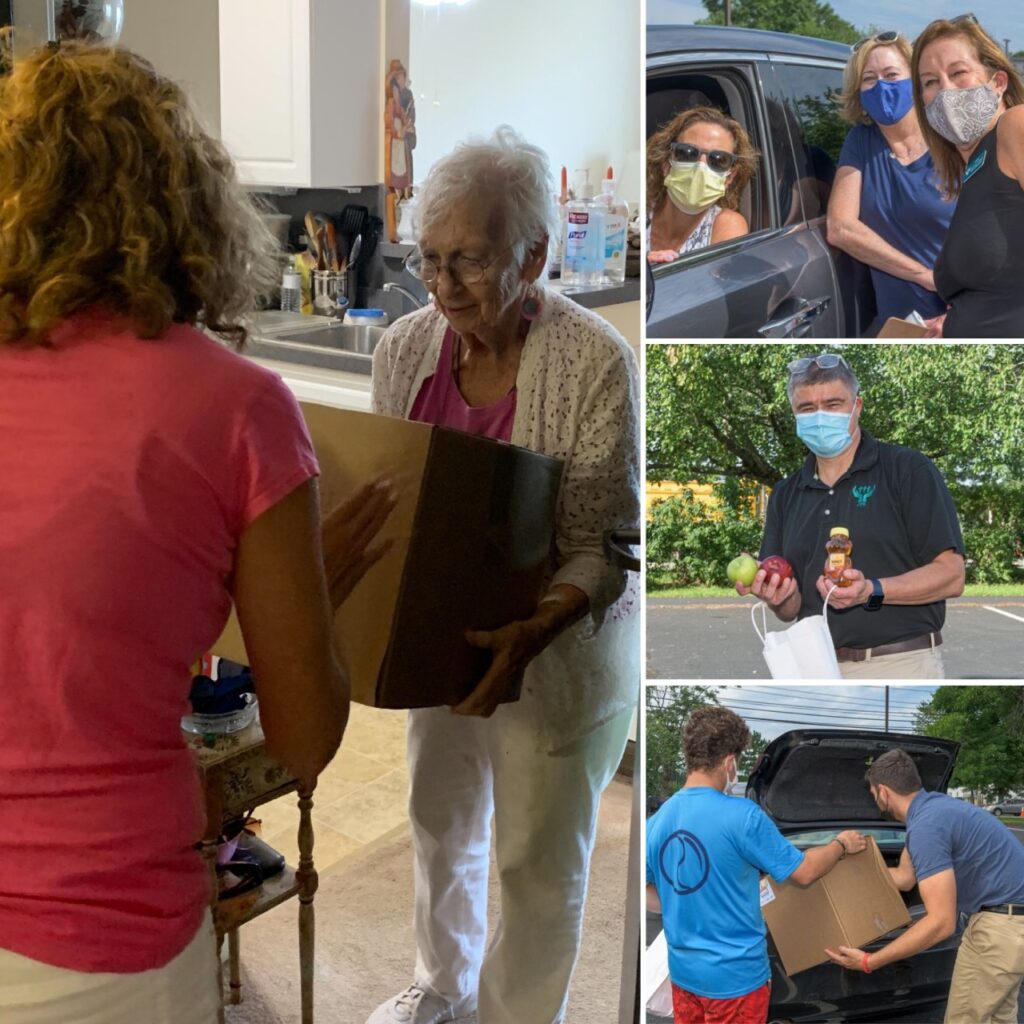 Photo Credit: Sheldon Golder
________________________________________________________________________________
Private donors are needed now more than ever! Please, make a donation today to ensure continued support for all of our neighbors in need.
Thank you for helping JFS make a difference in the lives of our community's most vulnerable.

________________________________________________________________________________
Interested in volunteering with JFS? Click here, or contact Gail Gregory, Manager of Volunteer Services and Community Engagement at ggregory@jfsmw.org