Framingham, MA, October 11, 2021 – Please join us in making a statement against hate and recognizing historical injustices that tie into our communities' present-day injustices. Community leaders and Cultural Stewards of the Nipmuc Nation will be in attendance and speak. This family event is outdoors, and masks are required. Parking available. Youth community service opportunities to follow.
Indigenous Peoples Day Ceremony (3-4 PM)
Time: 3-4 PM

Location: Miriam F McCarthy Elementary School (8 Flagg Dr, Framingham, MA)
Youth Service Opportunities (4-6 PM) — REGISTRATION REQUIRED
JFS Children's Clothing Closet at the Framingham Public School's Resource Center (19 Flagg Dr, Framingham, MA)
Daniel's Table (10 Pearl St, Framingham, MA)
A message from Rabbi Danny Burkeman (Temple Temple Shir Tikva) & Reverend J. Anthony Lloyd (Greater Framingham Community Church):
In the space of a week Ramona Cooper and David Green were brutally murdered in Winthrop and Rabbi Shlomo Noginski was stabbed in Brighton. And we did what we usually do in these situations, we reached out to each other to offer comfort and support. With the racial profiling of an African American couple out apple picking, with the painting of a swastika on a synagogue sign, with the racist questioning of the credentials of an African American School Board member in Beverly – we continue to feel the pain in our local and broader communities.   
As friends and colleagues, we wanted to be there for each other; because while it may not have been members of our individual communities that were specifically targeted, we felt the proximity of these attacks, they were against members of our wider communal families and were local. And we also understood that in the racist murder, the anti-Semitic stabbing; in all of these acts of aggression and violence, our communities were victims of hate.   
We respond to Cain's question: "Am I my brother's keeper?" (Genesis 4:9) – Yes! Yes, we are! A hundred times yes!  
As we talked, we reflected on the fact that despite the change in Government, the voices of hate continue to get louder. We talked about the fear that our respective communities feel. And we discussed what we could do to make a difference; what was our role as the Pastor of the Greater Framingham Community Church and the Rabbi of Temple Shir Tikva. How could we move beyond words of comfort to statements and action that seek to as the prophet Micah calls out "To act justly and to love mercy and to walk humbly with your God." (Micah 6:8).   
We decided that we did not want to wait passively for the next racial incident or violent attack and instead we chose to be proactive, to make the declaration that hate has no place here and that those voices and people do not represent us and are not welcome in Metrowest.   
All too often we see the proponents of hate trying to target one community or another, they have an agenda of dividing society, separating us into different groups, sowing the seeds of enmity, and division us. They do this because they realize that alone an individual community or group may be vulnerable, they want to keep us apart. When we come together as the opponents of hate, as the builders of bridges, and as believers in equality and justice we are the majority. Together we are strong and we will prevail.   
In the Biblical writing that our traditions share, we are instructed to not just love your neighbor as yourself (Leviticus 19:18), but also to love the stranger as yourself (Leviticus 19:34). The Bible makes clear that loving your neighbor is not enough, we are called to also love those who may be different from ourselves, to embrace and care for those who are targeted and persecuted. The Bible essentially calls upon us to build bridges not fences, to emphasize our shared humanity, not our differences, to spread love and not hate.   
 We have the opportunity to make this statement from our pulpits, but in the current climate, we felt that this message needed to go beyond the walls of our church and synagogue. On Indigenous Peoples Day we have a moment in the calendar to acknowledge that the first people to suffer from racism and hate in this nation were the indigenous peoples who lived here. We have a legacy of over 500 years of divisions and enmity, and we have an obligation to end that cycle of violence and hate.   
 It is for that reason that this year on Indigenous Peoples Day we have partnered with a number of local organizations to organize a ceremony to declare that together we will "Stand up to hate & Spread love." It is an opportunity to recognize historical injustices that connect to our communities' present-day injustices. It will be a chance for our Metrowest community and communities to come together to declare with a united voice that hate has no place here. And because we will not let hate be the final word, we will also have opportunities to spread love with acts of service.   
It is understandable for there to be fear and concern about the acts of hate that we are witnessing around us. The thing about fear is that it can be paralyzing or it can be motivating. We choose to be motivated. We choose to create safe spaces. We will build bridges with all other like-minded communities and individuals to celebrate our shared humanity, to stand up to the forces of hate, and to spread love in Metrowest. We hope that you will join us.   
—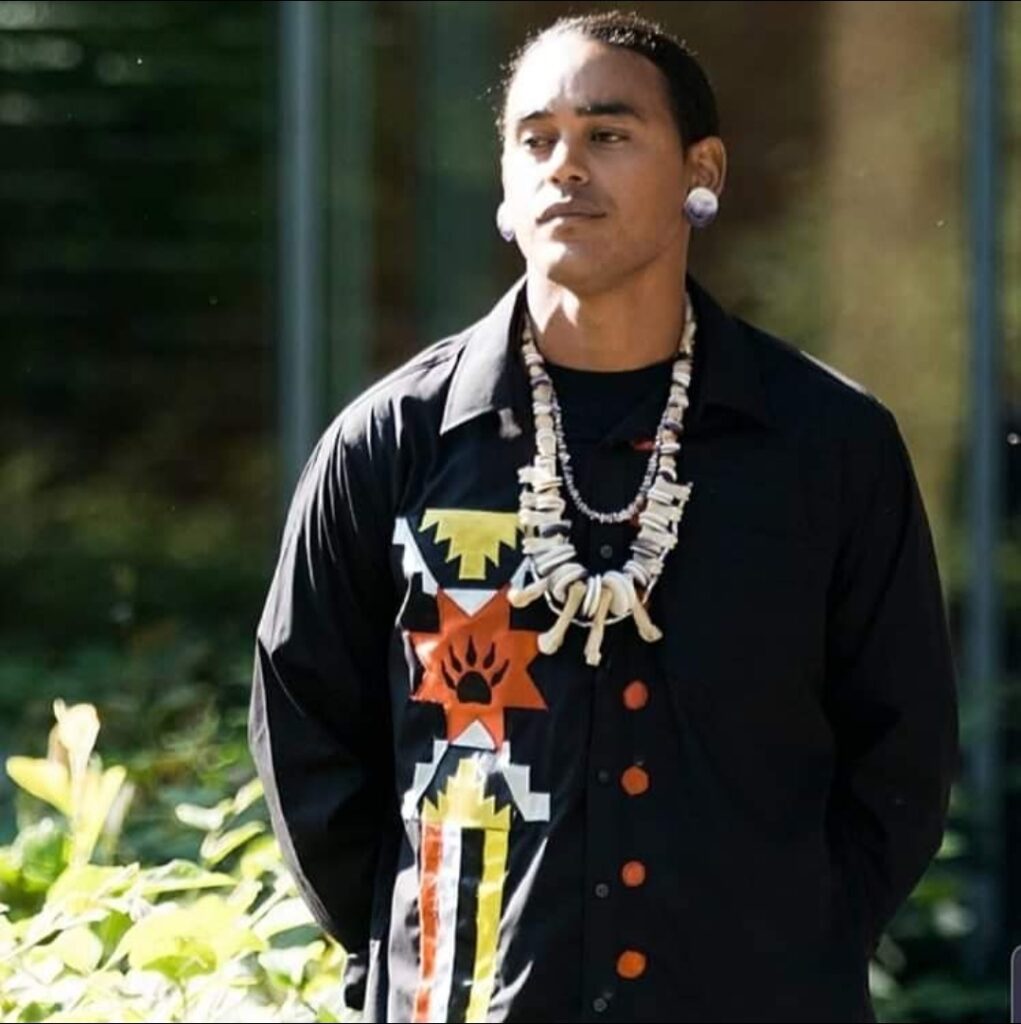 "I consider family, culture, and traditions to be the three most important aspects of life." –  Andre Strongbearheart
Andre Strongbearheart serves as a cultural steward for the Nipmuc Nation. He is a father, public speaker, traditional dancer, Indigenous Activist for Indigenous rights, carpenter by trade, and educator. His work is grounded in restoring the balance between everyday life and traditional values while navigating the colonial systems in which we live.
—
This event is supported by and a collaboration of the Greater Framingham Community Church, JFS of Metrowest, Jewish Teen Initiative at CJP, Nipmuc Nation, Framingham Public Schools, and Temple Shir Tikva.
For more information, please contact zblankstein@jfsmw.org