In December, Gov. Charlie Baker signed legislation to mandate lessons on the Holocaust and other mass atrocities. The bill, passed by a 157-2 House vote, comes as incidences of hate and antisemitism are increasing across the country, including several incidents reported in Massachusetts over the past year (WBUR). Legislators received a big push from the Jewish community, as the collective knowledge of the Holocaust and other genocides declines.
We sat down with Robin Welch, a former JFS Board member and current Co-Chair of the JFS Committee on Anti-Racism and Fighting Antisemitism, to discuss this bill. In this interview, Welch acknowledges the importance of genocide and anti-hate education in schools and warns us not to sit idly back after the passing of legislation. He emphasizes the importance of taking action, embracing diversity, and supporting ALL communities and voices, not just those with which one identifies. This interview comes as we recognize Black History Month, welcome new Afghan evacuee families, and continue to engage in difficult conversations that move our community towards welcoming and embracing all people.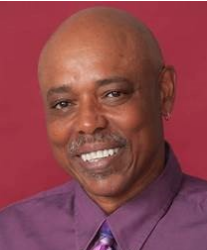 About Robin Welch: Welch is a retired Elementary School Principal, who spent 36 years as an educator in school systems across Eastern Massachusetts, including Brookline, Wayland, Milton, and Framingham. In July 2021, he was named interim principal at Memorial Elementary School in Natick. Welch received The National Distinguished Principal Award and was recognized as Massachusetts Principal of the Year in 2005 by the Massachusetts Elementary Principals Association. He also received the National Distinguished Principal Award from the National Association of Elementary School Principals and the United States Department of Education the same year (Framingham Source).
In addition to being a board member at JFS for many years, Welch was an honoree at JFS's Seize the Dream Gala in 2014. Welch's perspective as a Black educator and community leader is an integral part of JFS's effort to develop long term strategies to address hate, discrimination and bigotry in our community in order to accelerate social equity and inclusion in our neighborhoods and across organizations. 
_______________
Given your perspective as an educator and a community member, can you speak to the importance of genocide education and discussing hate in schools? 
"There is clearly a loss of Holocaust education. It's the same loss that goes with Black education and the histories and achievements of so many cultures. Anytime we can learn about anyone other than us, it helps our communities, and it helps the world… I have two basic beliefs that I've used as my mantra in all schools and with all ages. First, you should respect diversity and not fear it. Second, be kind." 

 
The bill lacks significant funding for developing and implementing curriculum in schools. What concerns does this raise?  
"People think that the simple act of getting a bill passed will change things. It doesn't. I think the bill is a great thing, but it'll take time and work to see traction. Teachers and administrators are already overwhelmed with COVID, MCAS, and the everyday challenges of being educators… I support the rationale behind the bill, but if there hasn't been thought from a curriculum perspective, it won't work. Signing the mandate was the easy part. Forming an organizational structure to ensure it happens is where the real work comes in."

 
Currently, there's little depth in genocide and hate education in many school systems. How can these complex topics be taught effectively? 
"It's important to have a common thread in genocide and anti-hate education starting at a young age, so learners have the foundation to critically think about racism, the holocaust, and other forms of hate. The bill would have been more influential if it had come with a list of five specific issues that would carry through all stages of a student's education… Elementary school students need to focus on basic skills. Middle schoolers begin critical thinking; and high schoolers take action… Also, appropriate training of teachers is needed."

 
What obstacles are schools and educators likely to face when teaching this material? What steps can be taken to overcome those challenges? 
"We have become a very 'me first' society. Many people's hearts and thoughts are in the right place, but there will always be opposition to these types of bills no matter how moral or just they may be… The school system can have a very positive impact on kids and teach them about becoming good citizens, but the school day is only six hours. So, if I'm a kid, and I have parents who have no interest in acknowledging certain histories, nine out of ten times, I'll listen to my parents…. And unfortunately, the path to higher education for many is about learning facts and moving on. It's not about other cultures. It's not about genocide. The students may know something about those, but it's not a key focus because none of that information shows up on a college entrance exam. Parents often don't want to make their children think about things that won't help them achieve in that world… It comes down to this: People have to care about helping those who are different from themselves… That has always been a key focus of my work.

 
Click here to learn more about Robin Welch, the JFS Committee on Anti-Racism and Fighting Antisemitism, and how you take action to address issues of hate in our community.