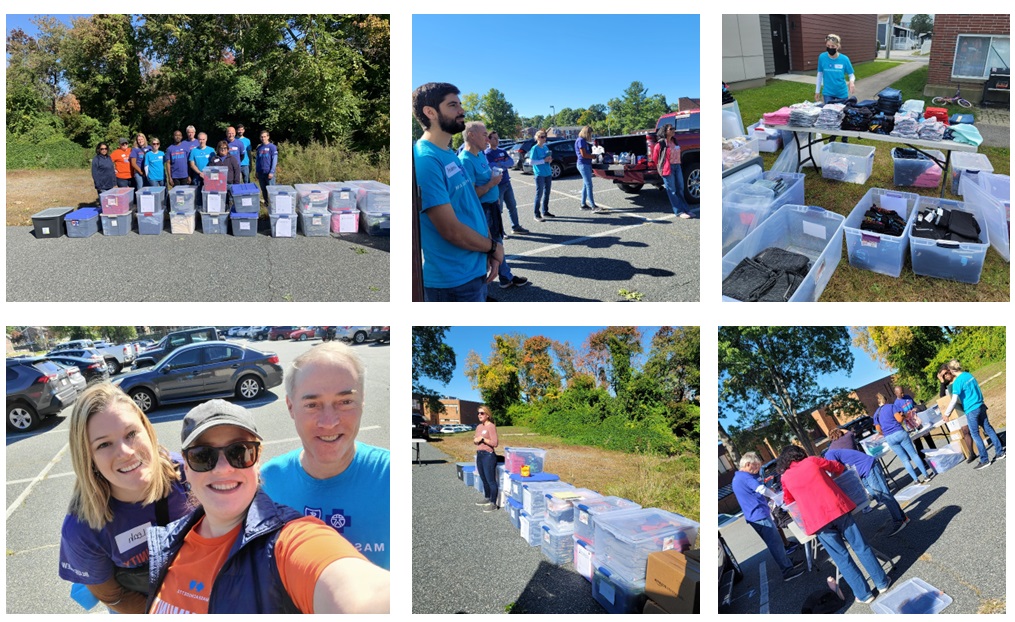 On September 29, 2022 as part of the Blue Cross Blue Shield (BCBS) of Massachusetts 12th Annual Service Day #ServiceDay2022 20 BCBS employees – led by Blue Cross site coordinator and JFS Board Member Elana Margolis – lent a hand to support Framingham's immigrant community by helping JFS staff sort, package and load over 2,000 items of seasonal children's clothing that will be distributed to families in need.
"The team of Blue Cross Blue Shield associates found this volunteer opportunity to be incredibly meaningful, impactful, and fun! We are all grateful for the opportunity JFS Metrowest provided, and the chance it gave us to support members of Framingham's immigrant community," said Ms. Margolis, Senior Director, Government & Regulatory Affairs at Blue Cross Blue Shield of Massachusetts. "This was an incredibly meaningful and impactful Service Day. Lucia was an amazing powerhouse of energy and drive and made the day magical for all who participated. It was an honor to serve with the awesome JFS team. Seeing the gratitude and appreciation from the "shoppers" was so rewarding! So, from Leah, me, and the whole team – THANK YOU!!!"
"We are so appreciative of these volunteers," said Lucia Panichella, JFS Senior Director of Programs and Partnerships. "They had such a great attitude, from loading up all the various cars to jumping right in and going with the flow when the pop up started early! Not only are the donations important for families who are struggling to make ends meet, but projects like these also create opportunities for volunteers to have meaningful and direct impact in the community. It is only with the help of volunteers like these that we can help over 7,500 people each year, and we are grateful for their time, energy and contributions."
Thank you to Elana and the volunteers from Blue Cross Blue Shield of Massachusetts for partnering with JFS to support families in need!
Click here to learn how you can volunteer with JFS and have direct and meaningful impact in the lives of people who need help the most.