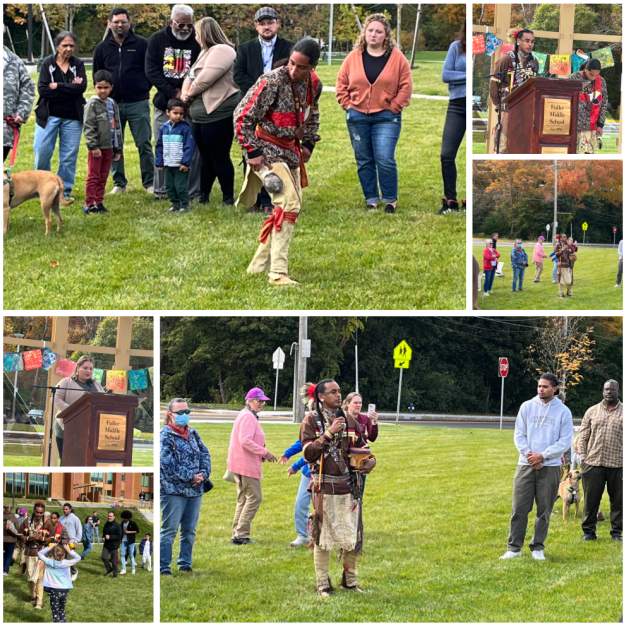 JFS was proud to celebrate and recognize Indigenous Peoples' Day on Monday, October 10th at the gathering hosted by the Framingham Public Schools (FPS) at the Fuller Middle School. This year's event focused on acknowledging Nipmuc Nation land, reminding us that "WE ARE ON INDIGENOUS LAND" – we cannot change the past, but what we can do is honor the land, ancestors, and indigenous traditions.
JFS Board Member Tiffany Lillie, Assistant Superintendent of Equity, Diversity and Community Engagement with the FPS emceed the event which featured FPS student speakers as well as representatives from the Nipmuc Nation, including Cultural Steward Andre Strongbearheart Gaines and Daishuan RedDeer Garate, who shared their wisdom, insight and dance traditions with participants.
JFS takes a lead role in the coordination of this important event as an area convener and leader in Tikkun Olam– repairing the world. Thank you to our collaborative partners City of Framingham, Community Vibes Framingham, Greater Framingham Community Church, Open Spirit, FPS, CJP, Jewish Teen Initiative, No Loose Braids, Islamic Center of Boston, MetroWest Jewish Day School, and Temple Shir Tikva of Wayland  for working to accelerate social justice and equity in our community!