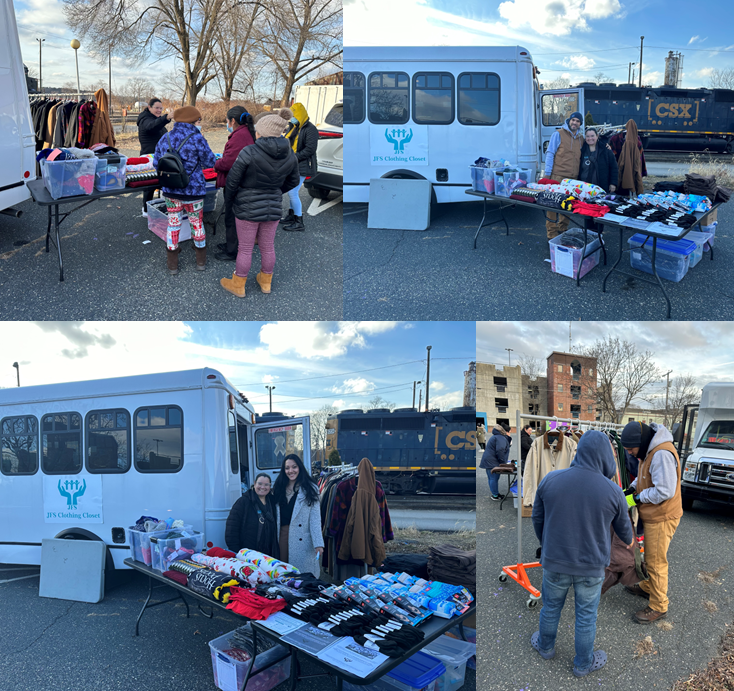 On January 11th, JFS and Daniel's Table partnered to create an amazing pop-up event. This event took place at Daniel's Table from 3pm-5pm. Going forward, we hope to do this monthly depending on demand and resources available. Daniel's Table is a food pantry in Framingham that supports local families and individuals in need. Their goal is to find the "hidden hungry", those folks who struggle with food security but are not eligible for traditional food programs.
JFS staff present at the event included Dámaris Medina-Hernández, JFS Homecare Manager of Training and Quality Assurance, who spends part of her time helping run the Resource Room at Framingham Public Schools. For this event she gathered clothing and agency donations which were then transported from the Resource Room to Daniel's Table with the help of JFS staff member Justo Rosario-Lebrón to create an amazing pop-up store where 'shoppers' could pick out items for their family members, allowing them to put their limited financial resources towards paying for heat and other necessities.
368 items including coats, socks, scarves, winter hats, female underwear, and men's t-shirts were given away. People showed the most interest in the winter coats and winter hats but by the end of the event, almost everything was gone. Families that attended this event included the elderly, newly arrived families, and moms with children.
Thank you to everyone who made this event a huge success!
Click here to learn more about the JFS Clothing Closet at the FPS Resource Room and make a donation today!