The AJC New England Annual Diplomats Seder was recently held at the JFK Presidential Library and Museum. Each year during this event, people from all walks of life gather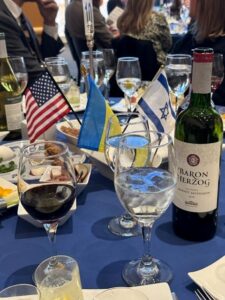 with diplomats from around the world to celebrate and rededicate themselves to the preservation of freedom.
Rabbi Marc Baker, President and CEO of CJP led an impactful seder and Cantor Shanna Zell of Temple Beth Elohim, Wellesley. Cantor Shanna Zell shared her musical talents, her soul penetrating music adding a special ethereal element to the Seder.
JFS' very own Shakeb, an Afghan evacuee, spoke of his family's journey to America. His reflection was poignant, and also provided a modern day experience reminiscent of the Passover story. JFS Senior Director of Programs and Partnerships Lucia Panichella, who oversees the JFS Immigrants and Resettlement cluster of programs, lent friendly support as Shakeb told his story and his experience working with JFS.
A special thank you to Michael Tichnor and his wife, former JFS Board Member Karen Tichnor for co-chairing the event.
JFS CEO Lino Covarrubias, was especially touched when Ukraine's Consul General Oleisii Holubov extended a personal thanks for the work JFS is doing to resettle Ukrainian families.
Many thanks to Rob Leikind Executive Director for inviting JFS to attend, and thank you to the AJC for their commitment to the preservation of freedom around the world!