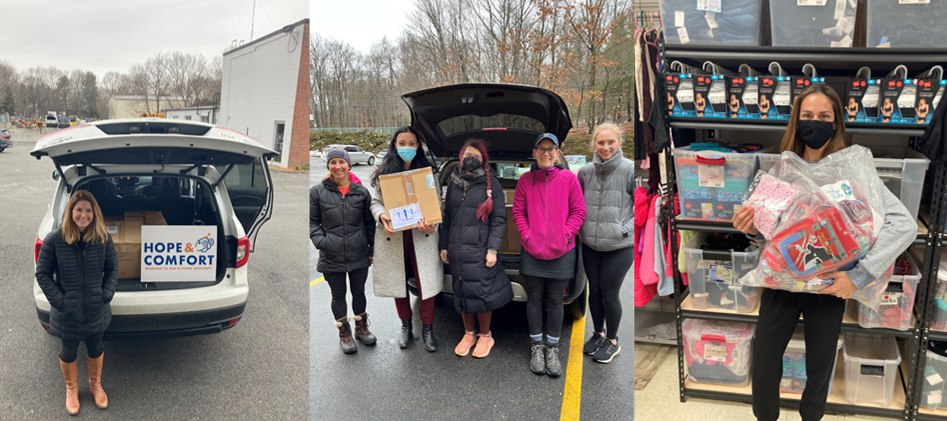 JFS is pleased to work with Dignity Matters, Hope & Comfort, and Coco Tree Kids. Dignity Matters mission is to assist homeless women and girls by providing underwear and hygiene products. They support women regain confidence and dignity by helping them stay healthy and clean. Dignity Matters also redistributes gently used bras which is great for the environment by keeping these items out of landfills. Currently they strive to provide free tampons, underwear, and sanitary napkins to women who can't afford it. Their long-term goal is to have basic feminine products available in all public bathrooms, free of charge just like toilet paper is. Achieving this goal is a big step closer to having equality and letting everyone thrive.
Hope & Comfort is the only organization in Boston solely dedicated to addressing youth hygiene insecurity. They receive thousands of requests for hygiene products each day along with heartbreaking stories about how they are not able to buy essential products. Supplying youth with these items can help improve their self-esteem, which can give them confidence to succeed in many aspects of their lives. Hope & Comfort works with over 150 community organizations including colleges to supply youth with soap, deodorant, shampoo, toothpaste, toothbrushes, and other essential items.
Coco Tree Kids helps families facing financial hardship, so they can focus on purchasing other necessities such as food and housing. Families living in poverty or children being displaced from homes, most likely; does not have the ability to purchase new underwear every 6-12 months or access to laundry facilities. Coco Tree Kids collect underwear sizes 2T-16 to support at risk youth. Through their incredible partnerships, they are able to purchase underwear at a fraction of retail prices, in the sizes needed. Coco Tree Kids then is able to distribute to children and teens facing hardships such as homelessness, domestic violence, and emergency crisis's. Underwear provides a critical layer of support and protection. Children are less likely to attend school or play outside if they don't have underwear. When children feel comfortable and confident, they are able to focus on education, personal goals, and just enjoying playtime/ time with friends and family.
JFS is so grateful to Dignity Matters, Hope & Comfort, and Coco Tree Kids for helping us bring necessities to those in need in the Metrowest area and beyond!