Earlier this week, just in time for the winter holiday break, the JFS Children's Clothing Closet distributed a total of 65 pre-ordered clothing packages to students at the Woodrow Wilson and Brophy Elementary Schools in Framingham, our largest distribution to date!
This early winter clothing distribution is a part of our Ready-to-Wear program, which launched in Dec. 2018. Ready-to-Wear works with families in our community to provide a seasonal response to clothing needs and are specifically catered to children's sizes and needs.
For this distribution, 65 children from Brophy Elementary and Woodrow Wilson – were given warm weather clothing, including sneakers, jeans, socks, warm pajamas, sweaters, and more! The clothing was distributed in individualized packages based on order forms that were submitted by families in early November.
All students from Woodrow Wilson who received clothing are also participants in either All Stars or STEAM Academy, our Pathways to Academic Growth, Empowerment, and Success (PAGES) extended-day programs we host at the school. These programs operate under our Academic and Social Equity Initiative.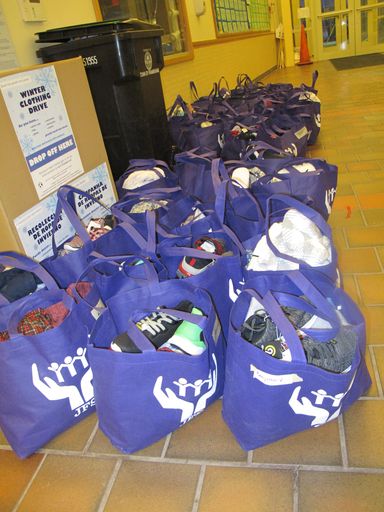 Ready to Wear packages lined up for distribution at the end of All Stars and STEAM Academy programs at Woodrow Wilson.
We thank our community partners for the donations of clothing and our volunteers, including JFS of Metrowest board members, staff and volunteers for preparing the orders — with your help and support these students are all prepared with the clothes they need to have a happy and warm winter!
The JFS Children's Clothing Closet looks forward to additional Ready-to-Wear Distribution events, which occur on a seasonal basis, and is always accepting order forms on a rolling basis from our clients.
Please click on the following links to learn more:
We are always in need of donations of kid's (K-5) clothing (gently-used and/or new) and volunteers, if you are interested in donating or volunteering, please contact either:
Anniey Michelson: JFS Program Specialist (508) 875-3100 x 440, amichelson@jfsmw.org
Danny Woodward: JFS Program Manager (508) 875-3100 x 450, dwoodward@jfsmw.org