CLICK TO WATCH A RECORDING OF THE VIRTUAL MEETING!
Framingham, MA – June 1, 2020 – Jewish Family Service (JFS) of Metrowest, a non-profit, community-based organization that provides vital social, health, and community services to alleviate suffering, enhance lives, and support people in need announced they have installed five new board members at the 2020 JFS Annual Meeting.
Before the formal start of the Annual meeting, CEO Lino Covarrubias stated: "I want to acknowledge all the lives lost during this terrible pandemic and also the recent death of George Floyd in Minneapolis. It is a terrible time for their families, and we are with them."
The meeting proceeded with the Chester and Diane Black Lecture Series on Volunteerism and Civic Engagement. Guest speaker, Rabbi Jeffrey A. Summit, Ph.D., spoke on the topic Hope, Courage and Community during a Time of Challenge.
A highlight of the evening was the installation of officers and new board members and the re-installation of board members with new terms.
The following officers were installed for 2 year terms:
New President, Josef Volman of Newton
Vice-President Sari Rapkin of Needham
Treasurer, John Herrera of Westport, CT
New Vice-President, Ian Rubin of Wayland
New Vice-President Jeffrey Swartz of Weston
New Secretary, Ashley DePaolo of Ashland
New board members installed for 3 year terms were:
Stephanie Elkind of Newton
Elana Margolis of Sharon
Neil Ross of Wayland
Andrew Troop of Sudbury
Marissa Wainwright of Waltham
The following board members were reinstalled with the following terms:
Chase Carpenter of Cambridge, term expiring 2023
Ari Freisinger of San Francisco, CA, term expiring 2023
Deborah Merkin of Wellesley, term expiring 2021
Attendees shared their appreciation for departing board members Chester Black of Wayland, Kevin Foley of Framingham, Penny Glassman, of Ashland, Robin Welch of Framingham, and Michelle Wilen of Ashland. The Annual Meeting provided an opportunity for the board to express its special thanks to departing president, David Milowe of Canton.
Additionally, several volunteers and staff members were recognized for their work in the community serving our most vulnerable neighbors during the COVID-19 health crisis. Mr. Covarrubias presented the CEO's Roll Up the Sleeves Award to the following volunteers: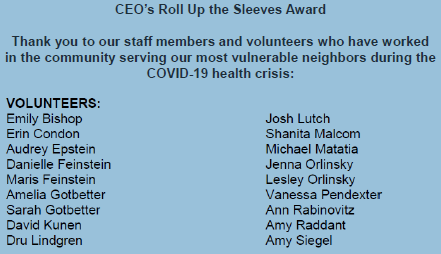 He recognized the following program staff for their work out in the community during this time:
Mr. Covarrubias also acknowledged the homecare staff for their extensive work helping others in the community: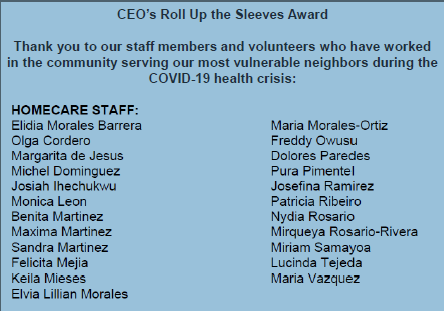 Reducing Achievement Gaps volunteers Alanna Martins and Abigail vanLuling were the recipients of the 2020 Ellen Bloch Youth Leadership Award for their continuous commitment and dedication both as mentors and to the volunteer program at JFS.
Mr. Covarrubias presented the first Marc N. Jacobs Innovation Award in honor of retiring CEO, Marc Jacobs. The 2020 recipient was Wendy Kogan, Director of Operations Systems and Technology. Former Assistant Executive Director, Susan Lebold, presented the Lebold Staff Award to Danny Woodward, Manager Immigrant Services.
Mr. Covarrubias also acknowledged the contributions of four individuals retiring from JFS of Metrowest whose combined years of service exceeded 90 years: Marc Jacobs, CEO Emeritus; Diana O'Brien, Director, Jewish Family Assistance Network; Risa Lifshatz, Office Manager, and Raquel Woodard, Adoption Choices Coordinator, Birth Parent and Children Services.
To learn more about JFS and to see the full list of 2019-2020 Board of Directors, visit www.jfsmw.org.
About JFS of Metrowest
JFS is a community-based 501(c)(3) nonprofit organization that works with over 5,000 people within the Metrowest and Greater Boston regions each year, targeting at-risk families, individuals, immigrants, and elders aging in place. Dedicated to accelerating social, academic and health equity, JFS is:
Increasing the ability of frail elders to maximize independence and quality of life as they navigate the challenges that come with aging
Accelerating academic achievement and pathways to college for low-income and first-generation students
Providing safety, hope and opportunity for refugees victimized by world conflict
Advancing equity with comprehensive assistance that empowers immigrant families to succeed
Reducing poverty in our community with case management, basic needs assistance and employment readiness support
JFS provides the tools to meet life's obstacles to stabilize during a crisis and optimally achieve self-sufficiency, strengthen lives, improve wellbeing, and build a stronger community. JFS' sound fiscal management practices have earned it a 4-star rating (score=100!) from Charity Navigator, America's largest independent charity evaluator. To learn more about JFS or to view the 2019 Report to the Community, visit http://www.jfsmw.org/.
---
LEARN MORE: