Dear JFS Friends,
I wanted to let you know how JFS is responding to the current events throughout our country and community after the death of George Floyd in Minneapolis. Aron Ain, JFS's Past President and CEO of Kronos Inc. and Ultimate Software stated it the best in a recent update:
"This is not a time to remain silent and passive. And we will not.
We stand in complete solidarity with the Black community and in
the commitment to end racial injustice and systematic racism in
all its forms. Kindness. Respect. Equality."
He is absolutely spot on and JFS will not remain silent and passive. Close to home, JFS serves clients and has staff of color which have experienced or have been victims of racial bias or racism. We must fight this injustice and know that JFS is extremely committed to this fight. As many of you may remember during
our concert celebrating diversity this past fall
, we made a clear statement that JFS would take a leadership role and do everything in its power to accelerate our partnerships with local leaders in this mutual struggle. Action must occur.
So far, JFS has met with all our community partners including Reverend L. Anthony Lloyd, the minister of the Greater Framingham Community Church; Joseph Corazzini, Assistant Superintendent of Equity, Diversity, and Community Development for the Framingham Public Schools; Connie Cabello, the Vice President of Diversity, Inclusion, and Community Engagement at Framingham State University; Lynn Moore, the Chief Diversity Officer for Mass Bay Community College; Yvonne Spicer, Framingham Mayor, Alaa Abushalah, Framingham's Officer for Citizen Participation and Assistant Police Chief Lester Baker. The entire community is super committed in the process of putting together local virtual opportunities (due to COVID-19) for the community to voice their support, solidarity, anger, fear, and next steps. It is important we keep conversations going, and JFS will do everything it can to facilitate discussion and peaceful action to end racial injustice and systematic racism.
Also, as you may know, the Jewish Community Relations Council (JCRC) of Greater Boston is the lead communal voice on social-justice issues including racism. We support their communications.
Here is their statement.
Please share all our social media posts and emails as we send them out. Keep up to date via
Facebook
,
LinkedIn
,
Instagram
,
Twitter
. We must not remain silent. More to come. Stay tuned.
Thank you for joining us in this important struggle for justice.
Signed,
Lino Covarrubias, CEO and Josef Volman, President of the Board
---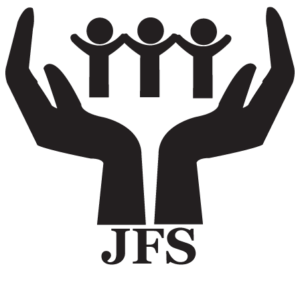 Accelerating Social, Academic and Health Equity