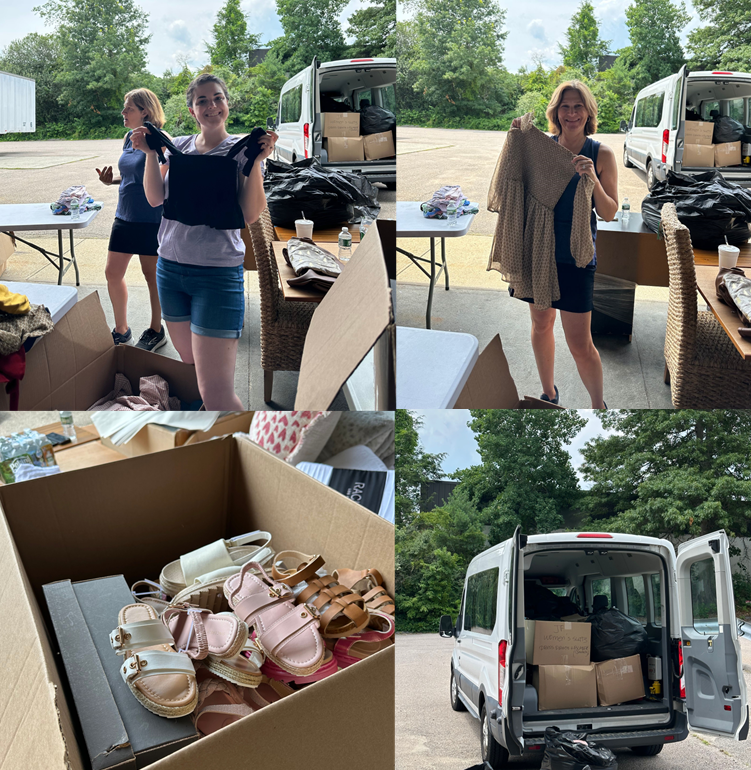 One component of JFS' work within the Immigrant Services program is the collection and distribution of children's clothing through the Framingham Public Schools' Resource Room. When needs arise, JFS also works with volunteer groups and donors to collect household goods and furniture for individuals and families who are being resettled in this area from other countries.
The photos above highlight JFS staff and volunteers who spent a recent hot summer day at a warehouse in Randolph, MA which was generously donated by community members to temporarily store donations until they could be sorted, organized and ultimately distributed to community members in need.
The donations ranged from clothes, to furniture, to bedroom and kitchen essentials. Team members on site that day included Homecare Training Manager Dámaris Medina-Hernández, Housing Specialist Sarah Leacu, Marketing Communications Specialist Alexis Vincuilla, and many volunteers in the Metrowest community.
The team worked hard to prepare and sort the clothing to go to the Resource Room and also for upcoming pop-up events that will take place throughout the Metrowest area. Most of the clothing donations came from large retail stores who gave generously. The clothing ranged in sizes and styles, letting us help even more community members! The furniture and household items were donated from various community members and will go to our incoming Ukrainian clients and other client families in need.
Thank you to all who helped that day and thank you to all who support the work of JFS!