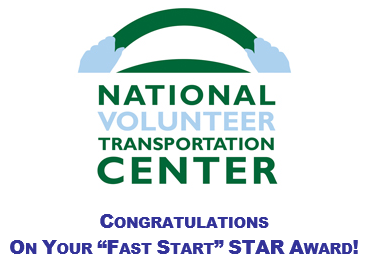 The National Volunteer Transportation Center (NVTC) STAR Awards recognize outstanding volunteer transportation programs and the involvement of their volunteer drivers in promoting and providing transportation services to passengers, especially older adult passengers.
147 volunteer driver programs submitted applications for a STAR Award in 2016. In late 2016 and early 2017 a review team of 15 professionals in transportation, volunteerism, and aging reviewed 147 STAR Award applications; and in April of 2017 members of the team met to select the 2016 STAR Award winners.
This is the 16th year of the annual STAR Awards program. The awards were initiated by the Beverly Foundation in 2000. In 2014 the NVTC assumed the role of organizing the STAR Awards. To date more than 150 STAR Awards have been conveyed to senior and volunteer transportation programs across America. The 800+ unduplicated volunteer driver program STAR Award applicants are identified on a map located on the NVTC website. Information about the 2016 STAR Award applicants is reported in a Fact Sheet also on the NVTC website.
In addition to preparing an application, each applicant for a 2016 STAR Award was asked to submit a story written by a passenger/client who received transportation from its service. A book that includes sixty or more of these stories will be published in late summer of 2017.
This year, the JFS Patient Navigator program was among four recipients of the "Fast Start" STAR Award and was the only STAR awardee from Massachusetts.
Click here to download the press release and
see the full list of 2016 STAR Award recipients.