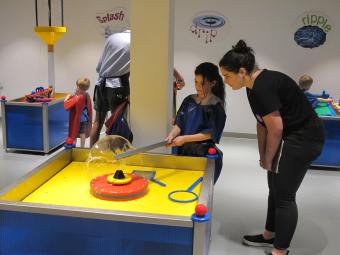 JFS Activities Update: This Tuesday, May 22, 2018, as part of JFS's Reducing Achievement Gaps program, JFS was proud to bring 31 third graders from Framingham's Woodrow Wilson Elementary School to the Discovery Museum in Acton MA. The All-Stars, designated as the All-Stars, were excited when the bus arrived at 1:00 pm for their afterschool program, meaning they would be excused from their normal classes for the rest of the day.
Upon arriving, 5 dedicated volunteers, including school staff and JFS members split the All-Stars into groups to explore with a mentor the new interactive learning space that the museum offers. It is safe to say once inside; smiles were all that an onlooker could see from the 31 students.
The first floor of the museum boasts learning spaces focusing in air, sound, light, and water. Some kids, played with tools, morphing water fountains to different shapes while others threw handkerchiefs into a tubular air flow display and waited for the wind to take it.
As the All-Stars moved around the first floor other mentor led groups rotated to the da Vinci workshop on the second floor. Here the All-Stars toyed with simple physics as a rotating table drew them pictures at the same time as others made their own art made of sand on pottery wheels.
The other groups not on the third floor enjoyed and relished some time outside in the treehouse/play space area. Here the All-Stars learned and were pushed to make good decisions involving "just the right amount of risk", a discovery museum motto. The All-Stars were allowed to roam relatively free outside and enjoyed climbing, drawing in the treehouse, a swing, and a slide.
After the All-Stars finished rotating around the museum, they had a snack, boarded the bus, and went back to school to talk about their day and what they learned with their mentors, before heading home.
The discovery museum was a great time and a great learning experience both for our dedicated volunteers and all of the All-Stars involved.
href=http://www.jfsmw.org/jfs%20child%20&%20family%20Achiv%20Gaps%20.html">Click to learn more about JFS' Reducing Achievement Gaps program!