As you may know, last week I had the honor of joining CJP's first U.S.-based crisis response mission to San Antonio to see firsthand the impact of CJP's Fund to Aid Children and End Separation (FACES) Last count the fund has raised over $315k from 413 donors and has distributed $36k to the Interfaith Welcoming Coalition (IWC) http://interfaithwelcomecoalition.org/ and $150k to the Young Center https://www.theyoungcenter.org/ both in San Antonio TX. The 28-person mission was led by Sarah Abramson, CJP's Vice President of Caring, Community Impact, and Strategic Partnerships and Dani Weinstein, CJP's Associate Vice President Women's Philanthropy & Young Adult Initiative. I was joined by fellow Jewish agency professional leaders Jeremy Burton (Executive Director – JCRC), Kimberlee Shumacher (CEO – JBBBS), and Karin Blum (Chief Development Officer – JVS). Also with us were several CJP donors, volunteers, and staff.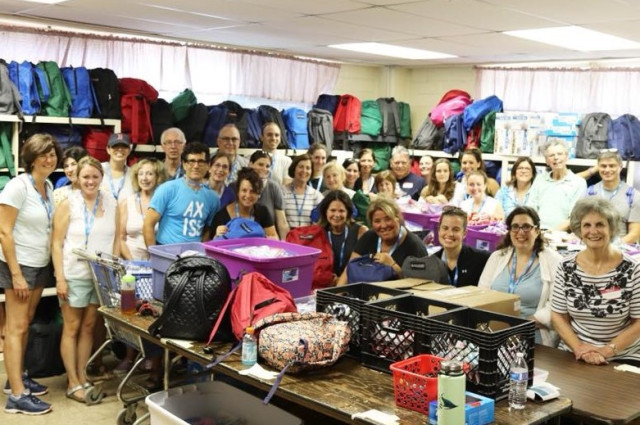 GROUP ASSEMBLING BACKPACKS WITH BASIC NEEDS AT EL DIVINO SALVADOR UNITED METHODIST CHURCH
The mission quickly became more than a trip to show our support of the FACES initiative. It became more than packing backpacks with food, water, toiletries, and children's coloring materials. It became more than seeing how committed non-profits in the San Antonio area like the IWC (providers of basic needs and some case coordination) and the Young Center (providers of immigrant legal services) are fighting to stop the injustices occurring daily for asylum seekers. Most important, we were able to bear witness and meet some of the families at the San Antonio Greyhound bus station, the location that is the first stop after the asylum seekers are processed in U.S. detention centers south of San Antonio. When the individuals and families arrive at the bus station, they have no money, are tired, do not know what the future holds, and are hopeful that they can travel onward to stay with family in the U.S. while they await their asylum hearing. The hearings might not occur for months, or even years.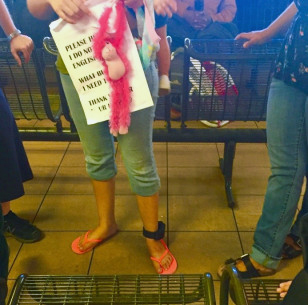 During the trip, I met three families. My Spanish fluency proved to be crucial in communicating with them. First, I met a very young mother from Guatemala, who was traveling with two children and another adult. They had crossed the border illegally at the Rio Grande in McAllen, Texas five days earlier. She traveled to the United States to flee gang violence. She was very nervous when she saw policemen at the bus station, and told me that in Guatemala, the police helped the gangs.
It was upsetting to see her with the ankle bracelet, as she managed her children and toys and an unknown future.

The two other families that I met were two adult men, each traveling with one child. They had crossed the Rio Grande four days earlier. They allowed me to photograph them. The man on the left was fleeing drug gang violence in Honduras. His son had just finished 4th grade. I was told that the child's mother was killed by a stray bullet from gang cross-fire. The man on the right is from Ecuador. He is also fleeing gangs that had given him an ultimatum to either join them or be killed. He has family in the Boston area and is traveling here to await his asylum case. It was extremely emotional to hear their stories of survival, and there was not a dry eye in our group.
We also had the opportunity to meet leaders of the San Antonio Jewish Federation and local government. They were all very appreciative that the CJP's community cares about the issues they are dealing with, and they are committed to continuing to find ways to help the asylum seekers.
The mission also provided a great opportunity to work alongside my fellow agency professionals, and discuss JFS' own immigrant community work with CJP and community leaders on the mission. It was an emotionally charged mission. The amount of churches, community leaders, public involvement and our own commitment to help gives us all hope change can and will happen. I'm so proud of JFS' strong commitment to immigrants, refugees/asylees and I strongly believe it must remain a priority so that no immigrant child or family is mistreated, suffers, or is unsafe. Our expanding Children's Clothing Project is just one example of our ongoing call to action. Things you can do:
Give to the FACES campaign which funds work the IWC and Young Center does. https://www.cjp.org/our-work/fund-to-aid-children-and-end-separation-faces
Get involved with many of JFS' program which aid immigrants:

Get involved- call to action. Next meeting coming hosted by Jewish Community Relations Council https://www.jcrcboston.org/events/from-the-border-to-boston-jewish-communal-efforts-for-immigrant-justice-in-massachusetts-and-beyond/
San Antonio, TX, USA