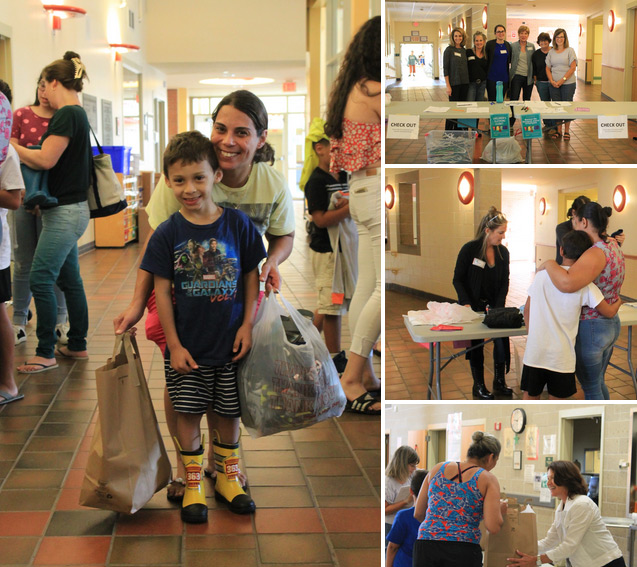 In mid-July, while parents were busy picking up their kids from summer camp, JFS held their sixth pop-up clothing distribution event this year in coordination with their 17th Healthy Harvest event at the Woodrow Wilson Elementary School in Framingham. In less than three hours, we distributed over 50 bags of fresh produce and 500 articles of clothing!
The JFS Children's Clothing Closet hosts these pop-up events to provide a store-like shopping experience at a variety of locations across the city of Framingham, including Woodrow Wilson and Fuller Middle School. All members of the community are welcome. Participants were thrilled by the opportunity to "shop" for summer and back-to-school clothing that they otherwise may not have been able to afford.
Healthy Harvest is a JFS program run throughout the school year that provides fresh fruits and vegetables to 50-70 local families every two weeks as a part of our third and fourth grade extended-day programs. When preparing the produce bags, we focus on a key vegetable, supplementing the bags with a matching recipe written and translated for parents, our goal being to help parents connect with their kids over food and cooking. This week, recipes focused on zucchini, a summer favorite!
This pop-up event was made possible by the volunteers who contributed their time to help with sorting, transportation, organization, set up and take down of the over 500 items that were donated from the community and JFS partner Delivering Good. Lending a helping hand were JFS volunteers Sarah Gotbetter, Andrea Sussman, Carol Hengerle, Liz Burnett and Michelle Bearak, as well as JFS board members Jodi Bring and Peggy Barry.
We are incredibly grateful to have such committed and kind volunteers who took the time out of their day to support a great cause! We would also like to extend a special thank you to volunteer Sarah Gotbetter who has been coming twice a week to the Children's Clothing Closet and has played an essential role in closet-related activities this summer. Lastly, we would like to thank the Woodrow Wilson Elementary School for hosting and helping make these events possible!
We are always in need of donations of kid's (K-5) clothing (gently-used and/or new) and volunteers, if you are interested in donating or volunteering, please contact either:
Maggie Kenney: JFS Program Specialist (508) 875-3100 x 320, mkenney@jfsmw.org
Danny Woodward: JFS Program Manager (508) 875-3100 x 450, dwoodward@jfsmw.org
Please click on the following links to learn more: