As unemployment increases due to the COVID-19 crisis, many families in Framingham are struggling to afford basic needs such as food and personal care items. To respond, JFS of Metrowest, in collaboration with community partners, has started a series of distribution events where families can pick up essential goods. The first of these events was held at the Woodrow Wilson Elementary School on Wednesday, April 1st!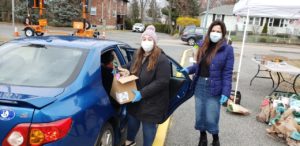 JFS' station was held alongside Framingham Public Schools' daily distribution of breakfast and lunch to students. JFS staff handed out 79 bags of both fresh food and personal care items to families and community members, while taking care to follow appropriate safety guidelines on social distancing and protective equipment.
Hygiene products included soap, shampoo, toothbrushes, toothpaste, deodorant, and menstrual sanitary pads. Food items included cans of pineapple, tuna, jam, frozen meat, soup, fresh oranges, zucchini and more. These events will be held at  Woodrow Wilson every Wednesday from 10-1 and all community members are welcome to pick up bags.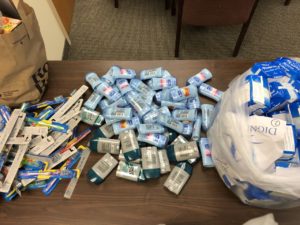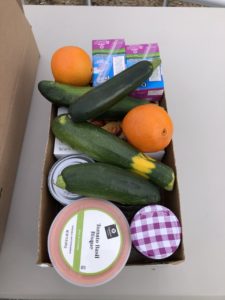 JFS is proud to partner with Daniel's Table to provide fresh produce, canned goods, and frozen meals, with Dignity Matters to provide menstrual care supplies, and with Hope & Comfort to distribute hygiene essentials to families in need in Framingham.
Collaboration is critical at this time, we can all do so much more to support our community through this crisis when we are working together. JFS cannot thank our community partners enough for their collaboration, support, and commitment to our community!  
To learn more and see additional photos please visit: "PHOTOS: Hygiene products available at Framingham's Woodrow Wilson School" published on 4/1/20 by Metrowest Daily News.