For the 9th consecutive year, JFS of Metrowest will provide over 250 backpacks full of school supplies to children in our community who need it most; but given the current public health emergency, this year's initiative is looking a little different…!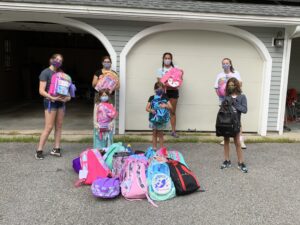 Although we've missed all of you who typically come to our large public event to pack backpacks with supplies, sixteen teen leaders throughout our communities have stepped up to meet the challenge and worked all summer to plan and execute small packing events.
Like their counterparts in week 1, this week's leaders received close support from JFS staff and volunteer intern, Zach Blankstein and were responsible for creating and executing a plan to collect school supplies and recruited a limited number of family and friends to fill 20 new backpacks at their individual events. Please enjoy photos from this week's events led by: Jared Berger, Jacob Darish, Alexis Fridman, Eli Gaffin, Ben Gelber, Josie Happel, Ben Myers, B O'Donnell, Erica O'Donnell, Megan O'Donnell, and Hailey Rashes. Special thanks to our friends at The Rashi School in Dedham for their partnership, particularly Joni Fishman and Stephanie Rotsky.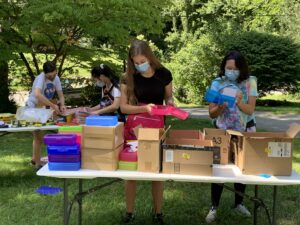 For years Build-a-Backpack has brought families together and gives us all the chance to learn how we can better help and support our shared community. We have been excited to watch these teens hone their leadership skills and take initiative with a new spin on this special annual event. We look forward to seeing all of you at our Build-a-Backpack event in 2021!
The Build-a-Backpack event is part of JFS's Pathways to Academic Growth, Empowerment and Success (PAGES) programming, formerly Reducing Achievement Gaps (RAG). PAGES is a unique, multi-tiered program focused on addressing the academic, social, and basic assistance needs of low-income children of immigrant families in Framingham. To learn more visit about JFS PAGES programming:
_______________________________________________________________________________________
To make a donation to JFS to support this and other programs please click "donate now"!
For more questions please contact:
Gail Gregory at JFS of Metrowest (Email: ggregory@jfsmw.org, Phone 508-8753100 x350).